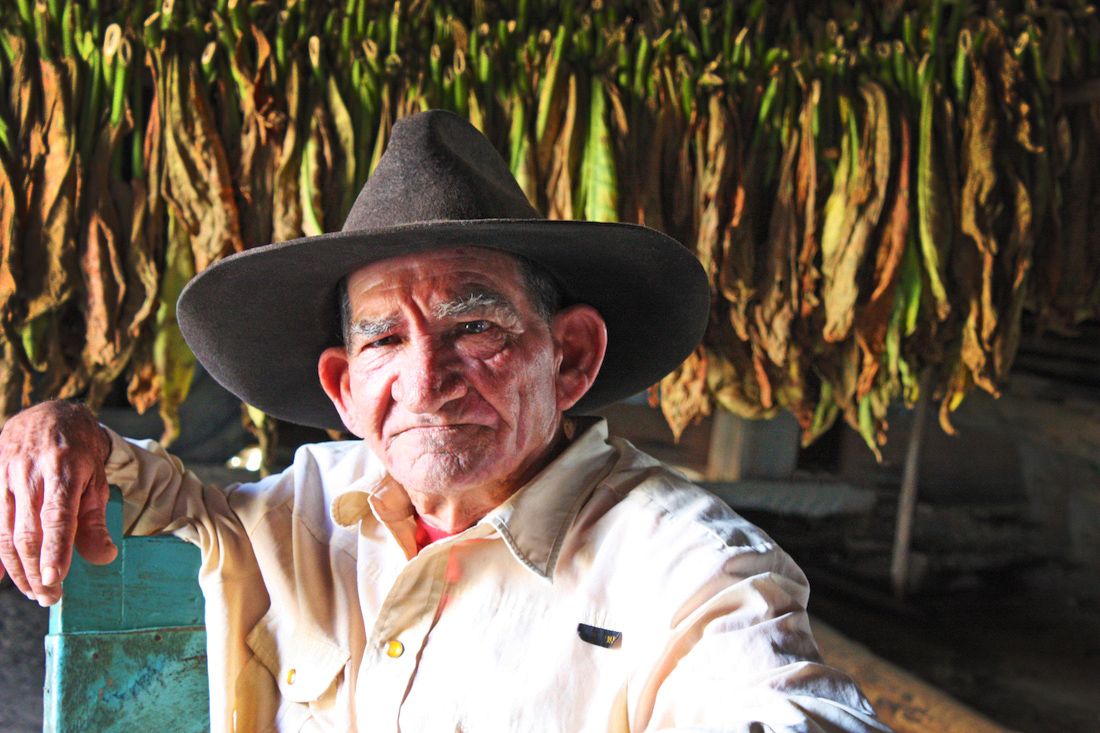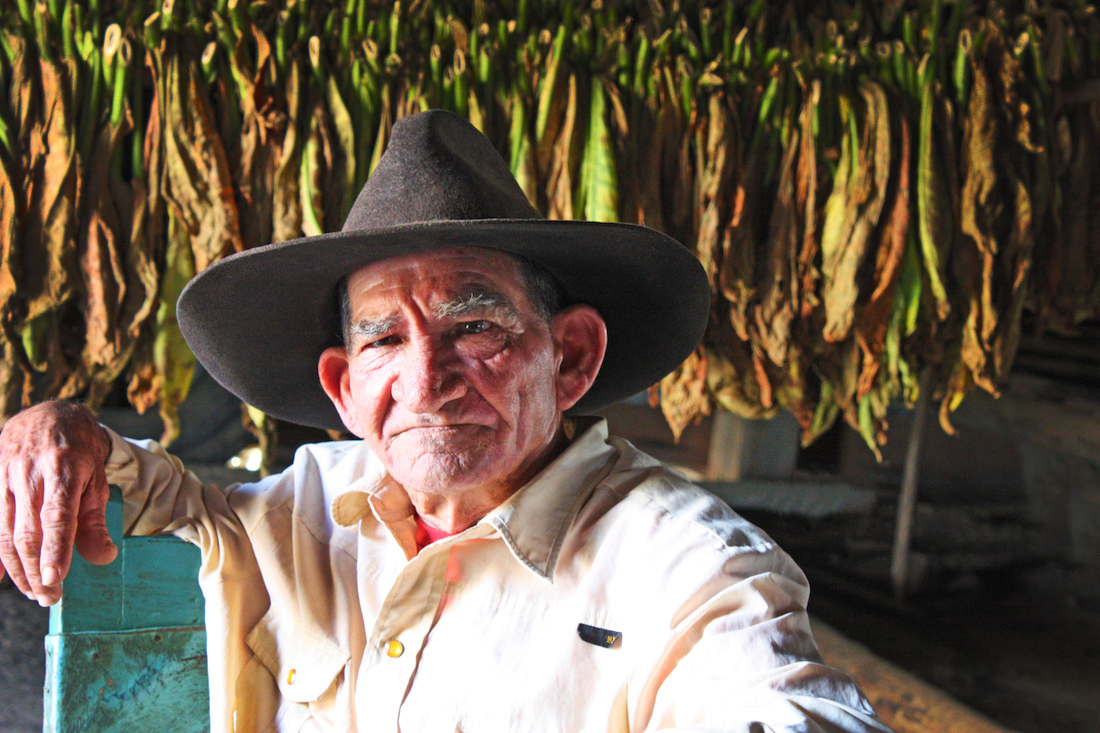 28 Nov

The Cuban Countryside : A Walk Through Viñales

A few hours west of Havana lies the charming town of Viñales, Cuba. It is tucked perfectly between forest covered cliffs, green tobacco fields, and sprawling valleys. A picturesque town within the Pinar del Rio Provence known for its fine Cuban cigars and friendly locals.

The downtown is quaint and easily walkable, the landscape is breathtaking, and a plethora of unique attractions are sure to keep you entertained. Viñales is a calm and relaxing destination that will force you to slow down and tempt you to stay for a while. While the city center offers plenty to see, make sure you explore the countryside. Wander outside of town and immerse yourself in the city's intoxicating personality.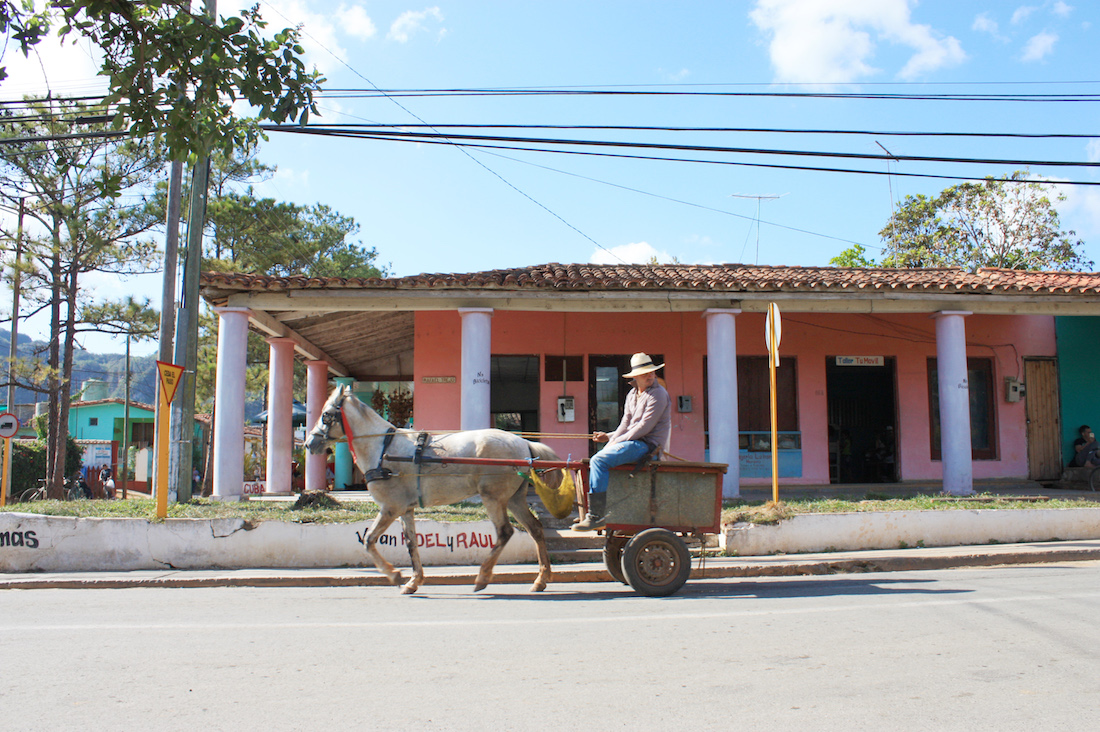 Exploring Viñales, Cuba
Few places on earth offer such an eclectic display of local culture. The streets of Viñales are a beautiful hodgepodge of faded  facades, street vendors, and pieced-together classic cars making it perfect for people watching and picture-worthy happenings. Whether you catch a glimpse of local tobacco farmers, basket weavers, or horse-drawn carts, there is always something or someone to watch. Small bars and restaurants line the main streets making it incredibly easy to find a front-row seat to the event.
Three things in Viñales will grab your attention: the people, the landscape, and of course, the cars. In neighboring Havana, you're jaw drops at the amount of classic cars, the impeccable paint jobs, the line of tour operators ushering you toward rows of perfectly polished convertibles and pink Cadillacs. In Viñales it's a little different. The cars aren't as pristine, they aren't polished to attract eager tourists for overpriced rides. Here, they are held together by string, handmade pieces replace out of production parts, cars from different eras are welded together to create 'Frankenstein' cars that can't possibly exist anywhere else.
Getting Around Viñales, Cuba
A local hop-on, hop-off bus runs regularly through town and pitstops at many local attractions. You can hop off at a resort with a refreshing pool, small eateries, landmarks, gardens that offer fantastic hiking, and much more. For just a few dollars, you have access to most of Viñales. Take the bus to the end of the route and walk back, making sure to stop at the local cafeterias and overlooks to take in the landscape. Random locals may try to sell you bananas or ask you for money to buy new clothes. Support the local community and buy fruit, cigars, and coffee directly from the farmers. Most locals are eager to invite you in to their home for a visit. Brush up on your Spanish.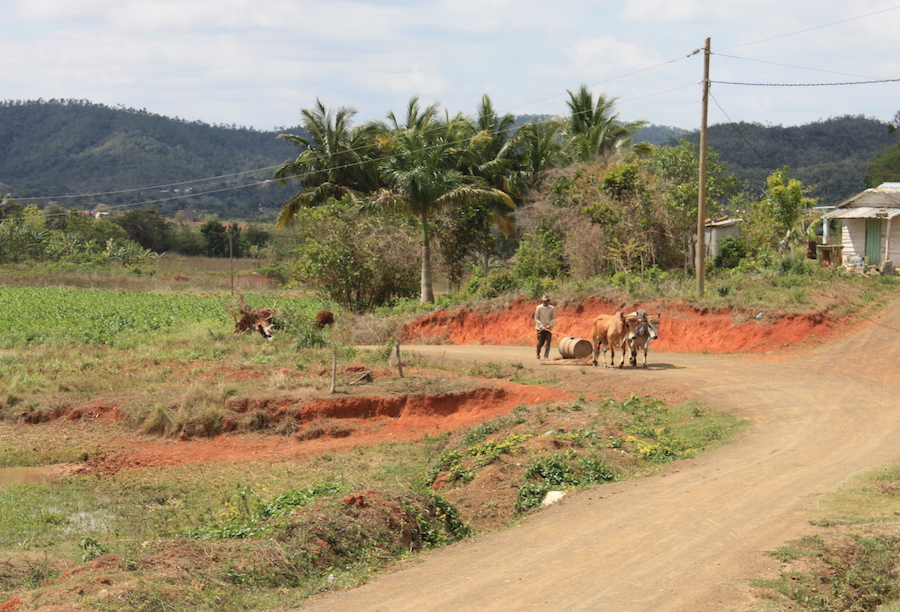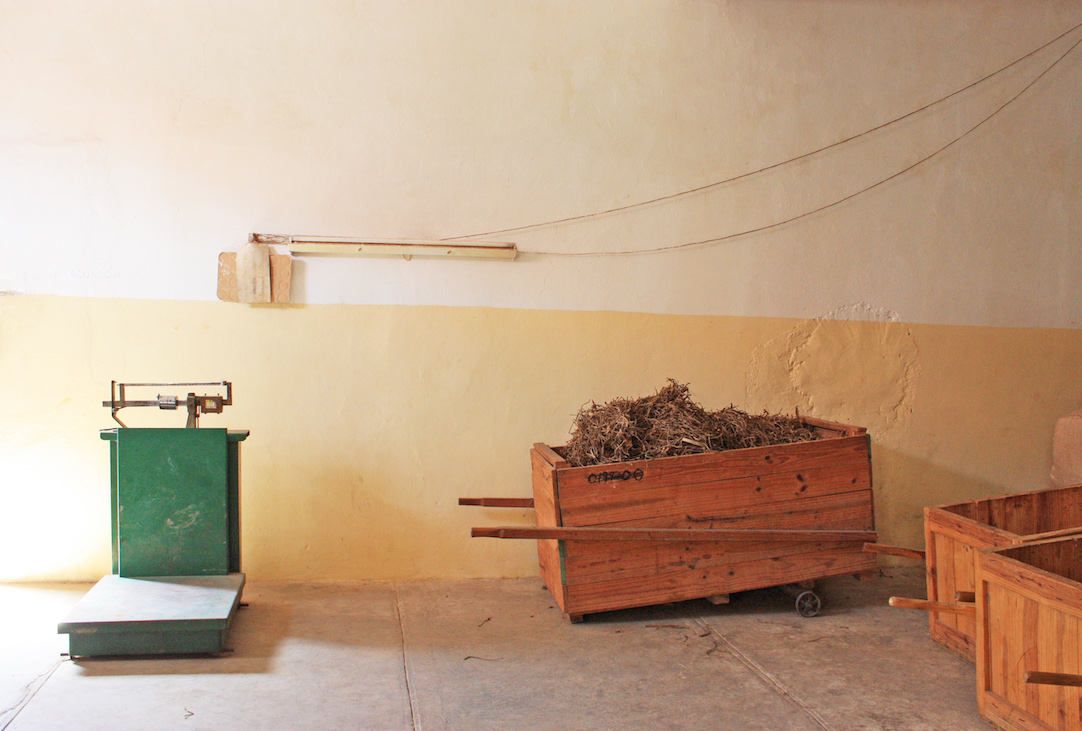 Tobacco Farming in Viñales
Tobacco farming is the backbone of Viñales. Large crops of tobacco leaves fill the valleys, while rudimentary drying and processing contraptions are set up along the perimeters. The Cuban government confiscates 90% of all tobacco after it is harvested. This tobacco is then sent to large facilities where rows of women hand-make each and every cigar. These are the Cuban cigars you buy at local shops and in touristy areas.
The remaining 10% of the tobacco is left with the farmer to use as they please. The farmers keep the best leaves, which is the highest quality tobacco. Elderly locals sit in dark barns hand cutting and hand rolling the most prized and sought after cigars in Cuba. Very few people have the patience and skill required to roll the cream of the crop. As you meet and talk to the locals, you will see seasoned cigar rollers that are a cherished and respected part of this culturally rich process.
During your walk through Viñales, you are likely to wander onto a local farm, where you will most likely be invited inside to try a cigar or take a tour of the process. There is always the option of exchanging money for some of the elusive and coveted cigars made from the reserved tobacco. Since farmers aren't legally allowed to sell their tobacco, you can tip for the tour and the generous farmers will provide you with a few souvenirs. One of the best ways to see these local farms is on foot. For those looking for less physical commitment, you can saddle a donkey or horse for the journey.
While the landscapes are overwhelmingly green and brown, the city of Viñales is remarkably colorful. The buildings are all coated in faded pastels. The cars, pulling from a more retro palette, can be seen in every color imaginable. In fact, it's rare to see anything black or white.
Keep an eye out for the subtleties that make Viñales unique. Most locals leave their front doors wide open, stray dogs stroll the streets, pigs and donkeys can be found roaming beside houses, and random bunches of carrots or vegetables drape front stoops.
Food is rationed in Cuba and grocery stores are fairly nonexistent. There are local panaderias that serve the allotted serving of bread, and markets that offer rice, milk, and eggs. Small butcher shops offer cuts of chicken and pork. Beef is nearly impossible to come across and most food, including their processed chicken, is actually imported from China. When it comes to fruits and vegetables, small carts are rolled into place along the city streets offering a rotating selection of whatever is fresh.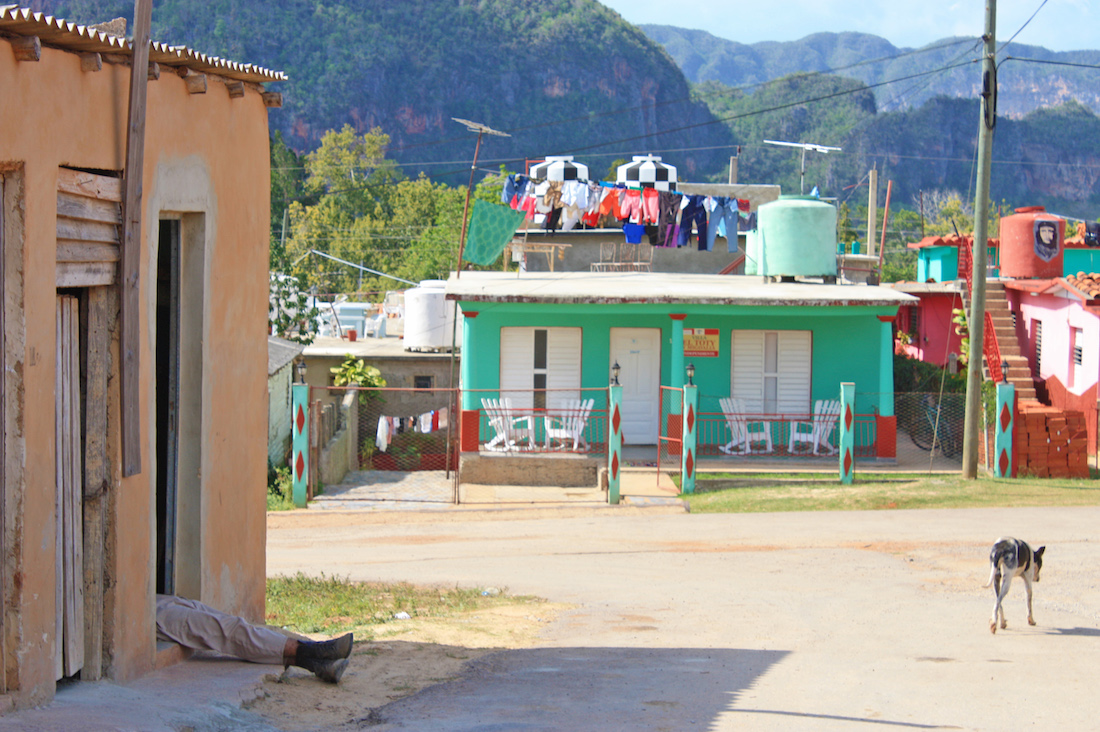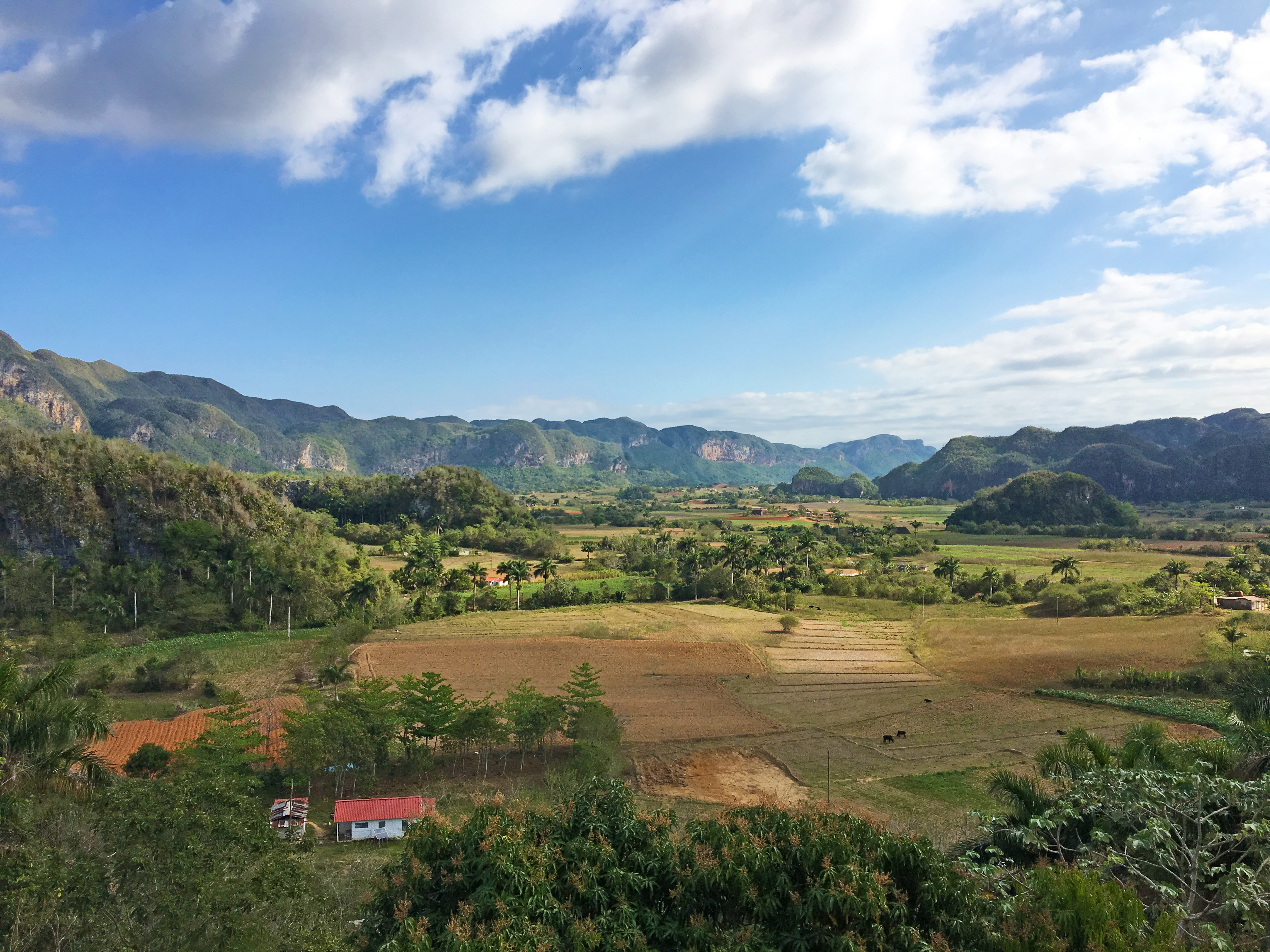 While most people are drawn to Viñales for the cigars or the scenic overlooks, they are forced to admire the culture and fall in love with the locals.
The lack of traditional infrastructure leaves locals with a broad range of complications unique to their area. There are no water lines running to Viñales so locals must source their own water from stationary tanks, trucks, or cisterns. Laundry must be done by hand in small buckets and hung to dry on clotheslines. Many homes have an unfinished set of cement stairs leading up to a flat roof that makes the perfect place for peaceful breakfasts and watching the unobstructed sunsets.
While some comforts of home may be missed here, you'll quickly learn to appreciate the unique ambiance and embrace the relaxed and simple way of life that is unlike anything we are used to.