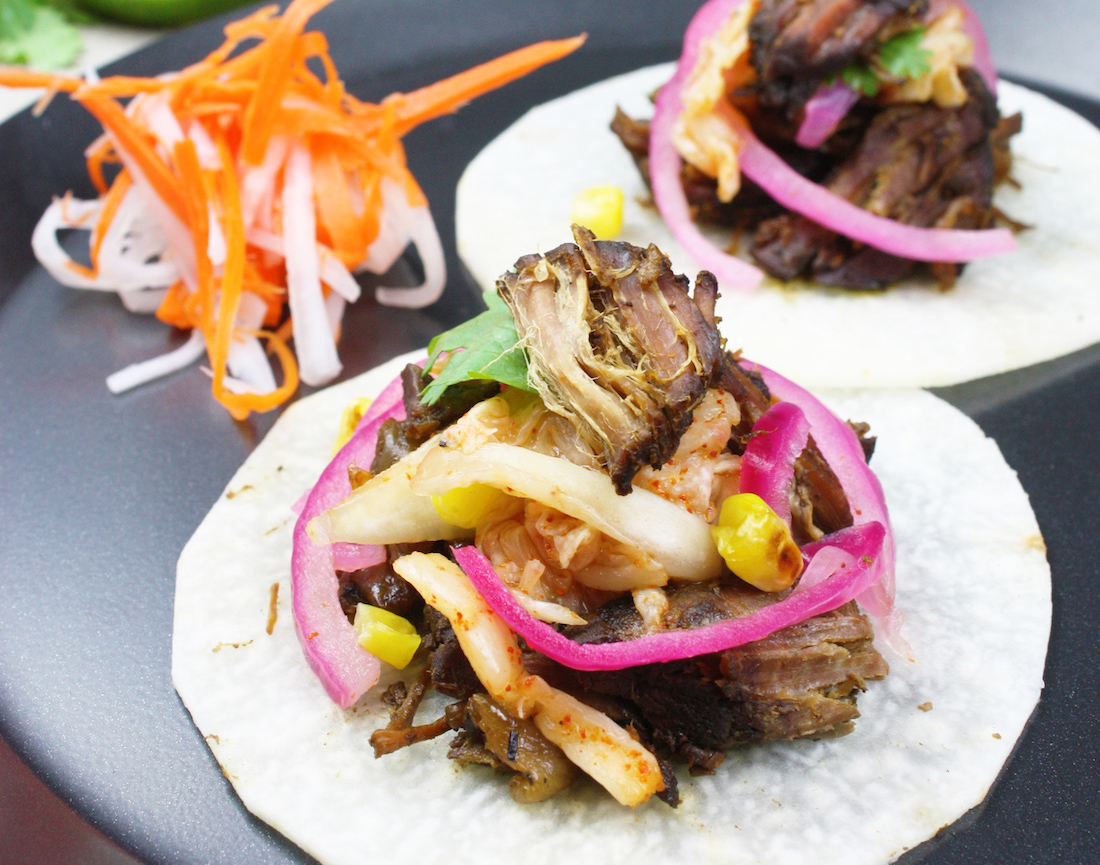 17 Oct

Vietnamese Beef Tacos + Kimchi and a Jicama Shell

Looking for something unique and delicious? Try our incredible Vietnamese beef tacos. The beef is a riff off Vietnamese pho; slow cooked with star anise, cinnamon, cloves, ginger and onion giving it a rich aromatic flavor. The beef is accompanied by pickled red onion and kimchi. The tacos are served on thin and crunchy jicama shells, and topped with fresh cilantro and roasted corn. This might be the most delicious thing you have ever eaten.
INGREDIENTS:
Beef
1 ½ Pounds Cubed Beef
1 Small White Onion
2 Thumb Sized Pieces of Ginger
3 Star Anise
4 Cloves
½ Stick of Cinnamon
1 tsp. Fish Sauce
1 tsp. Yellow Rock Sugar (Duong Phen)
1 Cup Beef Stock
Pickled Red Onion
1 Large Red Onion
1/4 Cup Lime Juice
Splash of Orange Juice (optional)
Herbs + Accompaniments
Cilantro
Fresh or Frozen Corn
Kimchi
Jicama
Do Chua
PREPARATION:
Vietnamese Beef Taco Recipe
Start by charring the onion and ginger (both with skin on) over an open flame or on a hot burner. Charring releases their aroma and adds sweetness and complexity. This technique is common in many classic Pho Recipes. Char until the outsides blacken and you can smell the aroma. Once charred, peel the onion and ginger, then chop and set aside.
Next, roast the star anise, cloves, and cinnamon in a small stock pot. Add the beef stock once you begin to smell the aromatics. Then add the onion, ginger, sugar, and fish sauce to the pot. Increase heat to high and bring to a boil. While waiting for the stock to boil, brown the beef over medium high heat in a Dutch oven. Once browned, add the boiling stock mixture and cover.
Place in the oven at 275 for 5 hours. Alternatively you can use a frying pan or cast iron skillet and transfer to a slow cooker on high. When done, the beef should be very tender and will shred with little effort using a fork. Be sure to remove the star anise and cinnamon.
Pickled Red Onions
Julienne the onion and place in a glass bowl. Pour boiling water over the onion slices and wait 10 seconds. Then strain.
Return the drained onions to the bowl and add the lime (and orange juice). Add a pinch of kosher salt and stir. Cover and place in the refrigerator until serving.
Roasted Corn
Preheat oven to 450 degrees. Remove husks and silks. Butter corn and wrap in foil.
Place on cookie sheet and roast for 20 to 25 minutes. When corn is cooled, open foil and return to oven to allow corn to brown.
For easier preparation, use frozen corn. Simply roast corn in a pan on low heat without oil until the corn begins to brown.
Jicama Taco Shells
Making taco shells with jicama is very easy and delicious. The jicama adds a crunchy, fresh, and light texture to the tacos that allows the flavor of the beef and kimchi to stand out.
Start by pealing the jicama, then slice using a mandolin. It can be done with a chef's knife, however, some skill is necessary.
Immediately put sliced jicama shells in a bowl of cold water. Keep them covered and refrigerated until ready to use.
Make Your Taco:
Place jicama shells on a plate. Add shredded beef, then top with kimchi, roasted corn kernels, and fresh cilantro.
Serve with a side of Do Chua.
Do Chua Recipe:
Vietnamese pickled daikon radish and carrot
1 ½ cup Daikon Radish
1 ½ Carrots
1 Cup Rice Wine Vinegar
4 Cups Water
2 Tbsp. Asian Rock Sugar or Raw Sugar
2 Tbsp. Salt
Start by cutting the carrots and daikon into thin matchsticks. Place the radish and carrot into a large jar. Next, bring the water, vinegar, salt, and sugar to a boil. Remove from heat and fill the jar with the vinegar mixture. Discard remainder.