27 Aug

10 Unique Places to Stay in California : Motels, glamping, + more.

The travel industry is seeing a major shift in trends. Travelers are seeking unique and boutique experiences. Accommodations are no different. Travelers are steering away from major hotels and turning to home shares, mom-and-pop motels, and glamping as a way to avoid mega-chains and impersonal service. We've compiled 10 trendy and unique places to stay in California; from funky motels and airstreams to swanky beachside properties, we have something for everyone.
10 Unique Places to Stay in California
Malibu, California
Located on the iconic Pacific Coast Highway, across the street from the world-famous Surfrider beach, The Surfrider is a modern California Beach House, inspired by the picturesque Malibu landscape and rich heritage of California surf culture. Personifying Malibu's historic beach-town community, the complete redesign of the original 1950s-era motel has transformed The Surfrider into a contemporary boutique hotel with 20 rooms that gives guests an unparalleled and elevated visit to Malibu.
◊
Calistoga, California
Sip, savor, swim, smile. You've found the perfect place, with the perfect vibe, in the perfect town. Hanging out with friends around the fire pit, a game of bocce, an evening bike ride. Taking a dip in the pool under the midnight sun. Designed by New York-based design firm AvroKo and inspired by the Great American Road Trip, Calistoga Motor Lodge is like a classic roadside motel, but even better.
◊
Malibu, California
Originally built in 1947, the recently remodeled Native Hotel has unveiled a modern new look inspired by old paradise charm. Thirteen individually curated king-size rooms make up this mid-century modernist retreat. Surrounded by acres of lush greenery and perched on the Pacific Coast Highway, guests are just steps from some of the most idyllic beaches in the world including Zuma Beach and Point Dume.
◊
Big Sur, California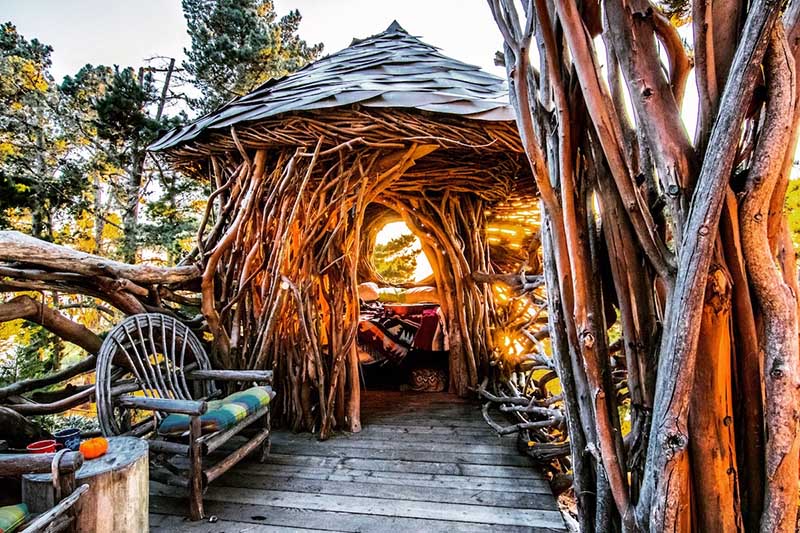 Treebones is a premier Glamping resort in California. Glamping is a luxurious form of camping, blending natural experience of outdoor camping with more glamorous amenities. From campsites, tents, yurts, human nests, and twig huts, Treebones can accommodate any sense of adventure.
◊
Palm Springs, California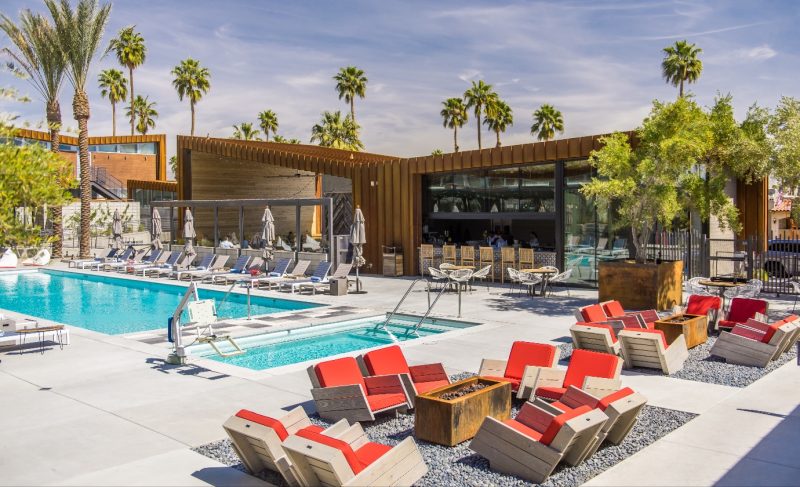 ARRIVE is a crossroads for travelers and locals that reflects the surrounding style, food, drinks and culture. Here in Palm Springs, we're all about the distinctive architecture, the sun-worshiping lifestyle, the natural beauty and the enduring Hollywood legacy of the desert.
◊
Palm Springs, California 
The ultimate desert escape. The Parker Palm Springs is a place to relax, retreat and indulge. Accommodations include private rooms, villas, suites, and more. On-site restaurants, beautifully decorated bars, and a lemonade stand offer decadent food and drinks. The activities are endless; three pools, tennis, Pétanque, croquet, yoga, giant chess, hiking, and more. The Parker is one of our favorite unique places to stay in California.
◊
Russian River + Santa Barbara, California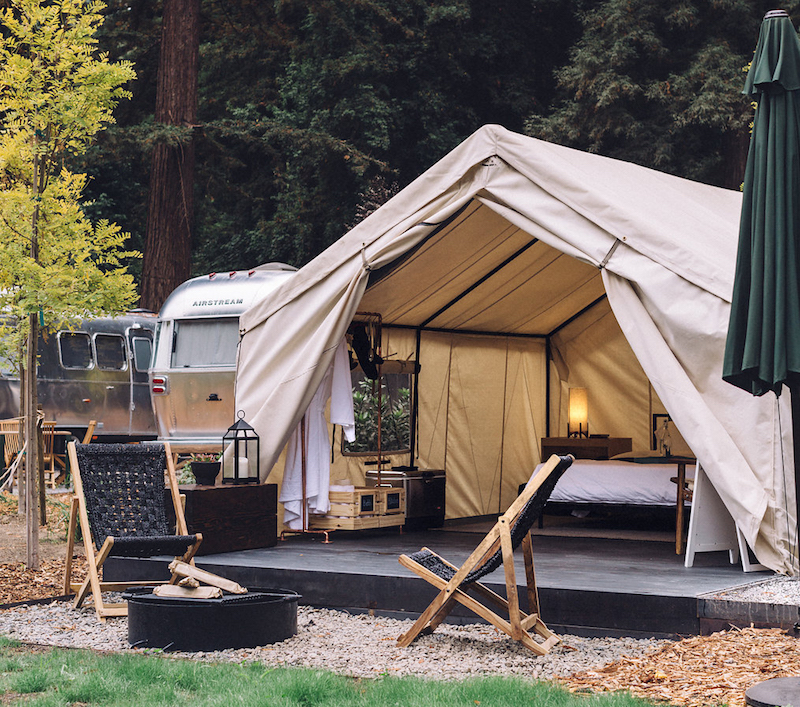 AutoCamp is truly Adventure Simplified. With locations near Santa Barbara, Napa Valley and Yosemite National Park, AutoCamp allows guests to retreat to some of California's most sought-after destinations. Wine taste in Sonoma, hike Half Dome, surf California's Central Coast and retreat to AutoCamp in the evening.
AutoCamp prides itself on it's seamless blend of thoughtful design and our location's natural surroundings. Our custom designed Airstream Suites and Luxury Tents are just a few of the unique accommodations we offer. AutoCamp's mission is to connect people to the environment and each other.
◊
Yuba River, California
This retreat is located on a 1400-acre habitat preserve; adjacent to 650 acres of state park land along the beloved Yuba River. Two round cabins were hand constructed from stone gathered from the land. Each offers a queen bed, desk, chairs, and mini-kitchen with stove, sink, refrigerator and an outdoor bbq. Included in your stay is Yuba River beach access with picnic area, hammock, chairs and an optional river campsite.
◊
Santa Barbara, California
El Capitan Canyon resort is a mere 20 miles north of Santa Barbara. Located in a seaside pocket on 300 + acres on the picturesque Pacific coast. The nature lodging experience at El Capitan Canyon was created for those who have the desire to totally unwind, relax, and commune with nature.
Enjoy services and amenities typically found in a traditional resort, yet it's minimalism without deprivation. Comfort without over-indulgence.
◊
Joshua Tree, California
Hicksville offers a pretty extensive list of 'trailer park' activities. A solar heated saltwater pool, BBQ area, table tennis, Fort Dog, fire pit, archery, BB gun range, corn hole, darts, mini golf, bar trailer, roof deck with hot tub, and more. The funky trailers and laid back vibe begs guests to relax and get a little weird.
We hope you enjoyed our 10 unique places to stay in California. Have a funky, trendy, or inspiring place you'd like to share? Leave us a comment.
WANT MORE TRAVEL INSPIRATION?
---