11 Jun

Three small towns in Croatia you have to visit.

Sprawling landscapes, vineyards, olive farms, rugged mountains, picturesque islands, and a food scene that rivals neighboring Italy make Croatia an absolute paradise and a traveler's dream. Like most places, the charming towns are those lesser known to tourists and tucked away from major cities. The Istria region of Northern Croatia is home to some of the most beautiful and unique towns in the world. Here are three small towns in Croatia that demand attention – and a visit.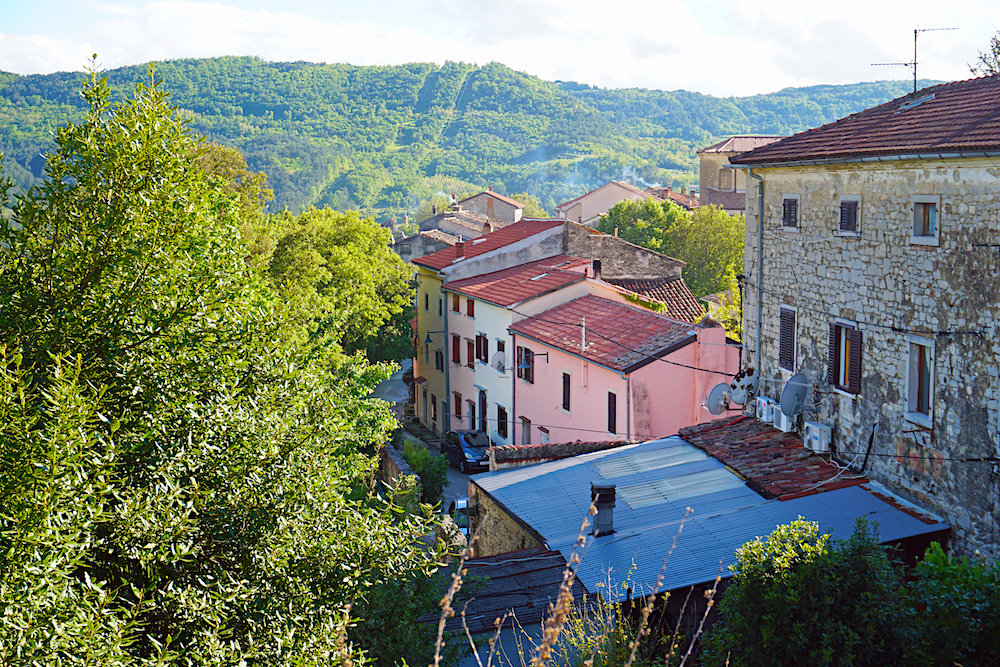 BUZET, CROATIA
Foodies, dog lovers, history buffs, and anyone that enjoys beautiful scenery and a relaxed vibe will fall in love with the town of Buzet. Known as the truffle capital of Croatia, you can easily overindulge on the sought-after delicacies while winding your way through town. Truffle tastings are free and plenty. Snack on truffle flavored chips and chocolate, drink copious amounts of homemade truffle brandy, or dine on the renowned truffle and scrambled eggs. If the gluttonous amount of truffles isn't enough to lure you in, perhaps the 4,000-year-old hilltop fortress will.
The landscape of Buzet is lush and bursting with vibrant greenery and stunning wild flowers. The perfectly manicured vistas act as a backdrop to Old Town Buzet that sits just above the city. Two town gates lead you along cobble stone roads to the decaying and still inhabited stone structures dating back to the 16th century. From here you can sip on cocktails, espresso, or treat yourself to more truffle infused concoctions. Peeking over the fortress walls provides unrivaled views of the sprawling meadows and pristine farmland surrounding Buzet.
If truffles, culture, and unparalleled scenery don't do it for you, perhaps the puppies will. Unlike Italy where pigs are trained for truffle hunting, Croatians train packs of dogs to track the underground scent of the edible and costly fungus. Since most residents of Buzet participate in the truffle industry, nearly every family has a pack of 'truffle puppies.' In Buzet, the dogs outnumber the people by 4 to 1.
Other notable hilltop towns: Motovun and Grožnjan
KOTLE, CROATIA
With a population of one, this tiny village barely makes it on the map. Nature rivals development trying to take back abandoned buildings while a rushing river with waterfalls and a prominent waterwheel flows alongside the limited establishments. There's only one place to eat and one place to sleep. At the sole restaurant, you can sit along the river and drink house wine that pours cheaper than the water. There isn't much to do here aside from hiking and relaxing, but that's half the charm. If you're looking for a storybook setting with very few other people, Kotle is worth a visit.
HUM, CROATIA
While many other towns in Croatia are small and quaint in their own right, only Hum carries the title of the smallest town in the world. While most places holding a world record tend to acquire a Disneyland-like feel, Hum manages to preserve most of its charm. You'll pay a nominal fee to park at the town lot before walking a few feet to the center. A handful of small shops and a restaurant offer extensive variations of homemade brandy, truffle salami, truffle cheese, and even more truffle oil.
As you walk the loop through town, you can't help but admire the slightly dramatic vibe and the medieval fortress remains. Just outside of the town center is St. Jerome Church dating back to the 12th century. History, truffles, and a unique distinction make Hum a quirky and tiny hotspot on the Istrian peninsula.
The Istria region of Croatia is bursting with culture, Michelin Star eats, and vibrant landscapes. Drive south along the coast and you'll find yourself in microscopic fishing villages and island towns boasting world-famous night life. Croatia offers something for everyone; bustling cities, pristine natural attractions, rich history, world-class food, and relaxed island life. You could easily spend weeks driving through this diverse and accessible country, but make sure you add Buzet, Kotle, and Hum to your next Croatian road trip.