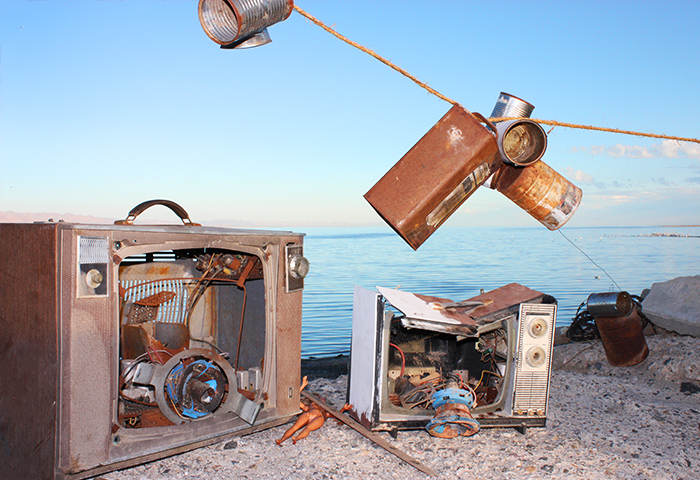 14 Apr

The Salton Sea : California's Abandoned Resort Town
BUCKET LIST +
Even the winding drive into Niland, California was extraordinary. We decided to take back roads in from Phoenix, Arizona. Rolling hills, old farms, wide open landscapes, and massive irrigation systems led us into an old and (mostly) abandoned, salt covered town.
Years of salt erosion and water damage make this wanna-be resort town an artist's haven and a beach goers nightmare. Graffiti, broken furniture and disemboweled TVs cover what used to be porches, sidewalks and housing slabs. The sand, actually salt, is crunchy under your feet and littered with fish skeletons. The high salinity of the water killed off most of the marine life, leaving only their sun bleached remains to decorate the lake shore.
I'm not doing a very good job of selling this place as a bucket list item, am I?
Aside from the wretched odor of rotting fish carcass – this place is definitely a sight to see. The perfectly still water, surrounded by mountain peaks, pink and orange sunsets that mimic sherbet, the locals that have stuck it out, the dingy bar selling cans of fish assholes to support the local fire department, it's all very post-apocalyptic and fascinating.
Besides the fascinating history behind this old Sinatra-vacation-destination, there is one thing, or maybe three, that make it bucket list worthy.
It's disappearing.

The landscape, which appears ripped from a Salvador Dali painting, is surreal.

I've never seen any place like it.

One piece of advice – explore. Take a side road. Walk down the beach, climb the weird wooden staircase that looks like it goes nowhere. All of the towns around the Salton Sea are littered with oddities and breathtaking scenery. Be careful, you will see some weird things and meet some interesting people. It's worth it. This isn't real life. The Salton Sea is akin to a hungover fairytale. You have to see it to understand it.
The Salton Sea