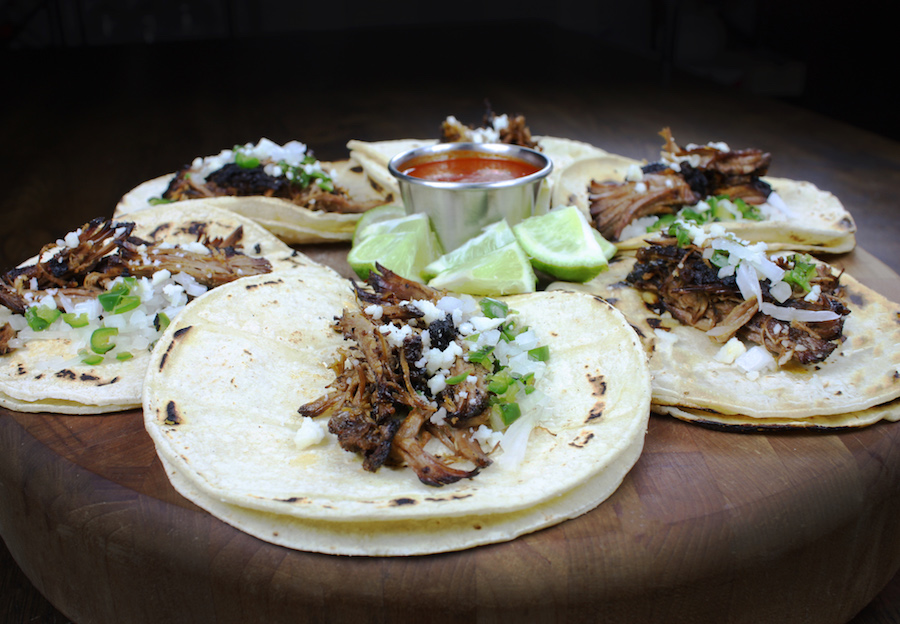 16 Jan

Authentic Street Taco Recipe

Tacos are the king of street food. Recipes vary greatly depending on which region of Mexico they originated. Al Pastor Tacos (pork and pineapple), Tacos de Barbacoa (open fire meat), and Tacos de Carnitas (fried pork) dominate the central regions of Mexico including Mexico City. Northern Mexico generally yields beef tacos with flour tortillas. The Pacific coast and Baja are awash with Tacos de Pescado (fish tacos). Finally, the Yucatan is home to the world famous Cochinita Pibil (pork slow roasted in banana leaves). Naturally, techniques and ingredients are shared throughout Mexico. We set out to make the easiest and most delicious authentic street tacos.

The recipe below is a riff on your typical street taco featuring elements from different parts of Mexico. This recipe has been refined many times. I find the simpler I make it the better it tastes.
INGREDIENTS:
Meat
2 ¼ Pound Rump Roast or substitute
When choosing a substitute, be sure to choose a a cut of meat with sufficient fat, as there are no liquids added to the recipe.
Rub
2 Ancho Chiles
2 Cascabel Chiles
5 – 7 Morita Chiles
1 ½ Tbsp. Chile Pequin
1 Tsp. Salt
Herbs + Accompaniments
Cilantro
Lime – quartered
Minced White Onion
Finely Shredded Cabage
Diced Jalapeno
Flour or Corn Tortillas
Cotija Cheese
PREPARATION:
To begin, roast the chiles in a pan over low heat until toasted and aromatic, taking care not to burn. Remove chiles from pan and allow to cool. Remove stems and seeds. Place chiles and salt in a spice grinder and grind thoroughly. Generously cover the roast with the rub, making sure to completely cover every inch of the meat.
Next, cook the roast in a slow cooker on high for 4-6 hours until the roast shreds easily with a fork. Shred entire roast then return to the slow cooker for one additional hour.
This recipe can also be made in a Dutch oven (275 for 5 – 6 hours). However, you will have to add liquid (water or beef stock), otherwise the meat will dry excessively.
Serve shredded beef in a warmed tortilla. Top with your favorite garnishes. Try finely shredded cabbage, onion, and cojita cheese. My personal favorite is minced white onion with finely chopped cilantro and a splash of lime juice. Serve with fresh lime wedges and red salsa or salsa verde.
Tips:
Roasting the chiles releases their flavors and adds complexity. It also makes the chiles more brittle, making it easier to remove the stems and seeds.
Lightly toast your tortillas on a gas stove burner. Doing so increases the flavor and aroma of the tortilla, making the taco taste much more authentic.
You can learn more about chiles with our Complete Guide to Dried Chiles.