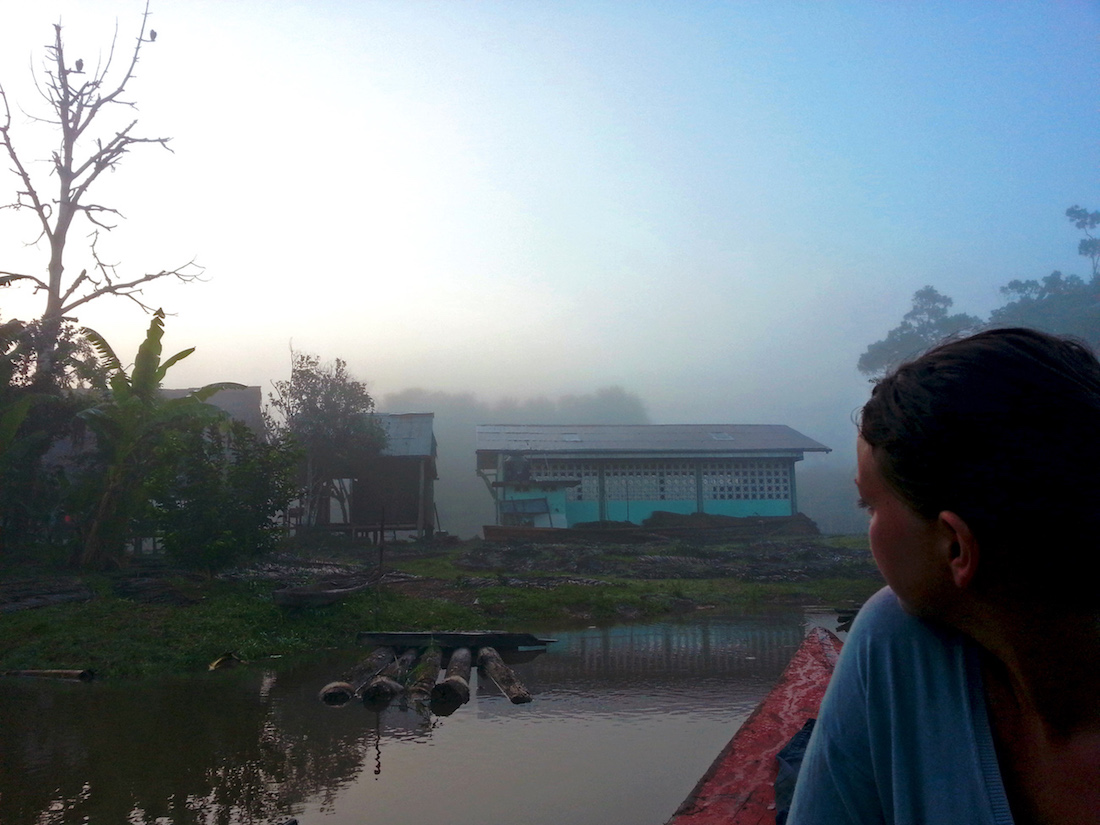 16 Feb

Ramblings of a Lost Traveler

We checked into our overpriced, last-minute hotel room. The halls were smudged with grease and splattered paint, the unmistakable smell of curry radiated from the discolored carpeting and the yellow-tinged walls. The bed had already been slept in. The sheets were wrinkled and still pulled back, the tan bedspread hung halfway off the side loosely piled on the floor, and the two thin pillows were stacked on top of each other on the right side of the bed. Our third-floor windows were covered with tattered scraps of mismatched fabric that barely hid the city lights. We dropped our bags and mustered up the energy to find a late dinner, settling on Indian street food and a traditional Indian dessert, Paan, that tasted of perfume and cleaning supplies. We were in Little India, Jersey City.

A 20 minute ride from the airport dumped us on a dark and damp road surrounded by construction cones and barricades. The entrance to the Haibaan Inn was tucked down a poorly-lit alley and hidden behind rows of metal scaffolding. We were tired, broken, and defeated after missing our international flight. The majority of our day spent running through airports in an attempt to reconstruct a string of delayed and canceled flights. As we settled into our botched plans and this unforeseen pitstop in New Jersey, we promised each other that we would make lemonade; agreeing to find some way to make the best of this whole ordeal. I was still trying to conceptualize why this all of this would matter later.

Fast forward a few accelerated and sleep-deprived days later, and I find myself sitting in a twin-sized hostel bed in Tel Aviv, Israel. The sun is just starting to rise over the buildings, finally lighting up the beach that sits just steps from my window. Everything is draped in a soft veil of grey and a light fog covers the ground, rising slowly over the coastline. It's a beautiful setting to wake up to, but I know that this moment won't be something I remember years from now. It has taken me countless slow sunrises and early morning ruminations to realize that the destinations and experiences you keep forever are usually the ones that change you a little, not just the ones that carry a soft color palette.

Feeling inspired by the silence of six A.M. and unable to fall back to sleep, I made my way up to the roof-top deck and opened my journal to start writing. I was thinking about all of the interesting, indescribable, adjective-heavy places that I could tell you about. I thought back to that mentally taxing night in Jersey City, when everything seemed to go wrong. Or that very morning in Tel Aviv, waking up in a country that I visited on a whim and a flight deal. I was trying to sift through these experiences, trying to find something meaningful to me in that exact moment.

I could ramble on about the time I waded through a flooded port in Leticia, Colombia, where I slipped and fell off of a warped 2×6 that bridged the sunken immigration building to the customs office. Or the time I slept on a wooden boat on the Amazon river for a few days, my hammock strung from the thatched ceiling of our boat – my days spent rowing through mangroves in a hand-carved wooden canoe searching for anacondas.

There's that time in Botswana when I laid in my roof-top tent watching elephants, buffalos, and zebras jockey for access to a watering hole. That living room in Viñales, Cuba where I sat for five hours desperately trying to carry a conversation with the local family in broken Spanish. Standing in the meat locker of the Belen market in Iquitos, Peru, surrounded by cows, monkeys, pigs, and enormous headless fish–all hanging from rusted metal hooks. The night I spent sleeping in Maya Bay, Thailand, or the sandy open-air truck ride into the hippie convent of Cabo Polonio, or that time a friend and I wandered into the jungle looking for a hidden swimming hole in Tulum.

Years of traveling has gifted me with an extensive anthology of destinations and experiences that I can always pull a story from. But as I sit here, watching the early morning joggers and a storm moving toward me in the horizon–I'm dumbfounded by the memory that keeps clogging my thoughts. I can't stop thinking about a peculiar bar tangled deep in the Peruvian Amazon.

It was a few years ago, but the memory remains vivid and unscathed. My then-boyfriend and I had decided to spend one week living on the Amazon river, we would sleep in hammocks, visit local villages, and do exactly as the locals do. A four hour boat ride from the small port town of Nauta landed us in an indigenous village. There were no modern amenities, no electricity, no cellular service, no real infrastructure, and the only way in or out was by wooden boat. I remember feeling sufficiently off-grid.

On one of the days, I walked around the grassy village, absorbing the lifestyle and doing my best to converse with the locals through a series of grunts and hand gestures. I watched as little boys threw live chickens at each other. An unsupervised two-year-old girl played with sticks at the river's edge and I watched a group of leather-skinned men trim the grass of a large communal field by hand with nothing but dull machetes.

That evening, we pushed our boat out into the murky water and floated off to find a secluded place to moor for the night. Our crew of four had been consistent all week. My boyfriend and I accounted for two. The others were our elderly guide, who was also a local shaman, and a fourteen-year-old boy that was tasked with operating the boat during the day and bailing out pools of collected water throughout the night.

On this particular evening, our guide told us about a local village bar owned by a good friend. He asked us to accompany him for a drink. Jumping at the opportunity for a refrigerated beverage, we docked our glorified canoe at a small clearing. We followed our guide through an overgrown field and onto a makeshift wooden platform. Two tables, a tube television, and the loudest Brazilian music I'd ever heard welcomed us to what I could very generously call someone's backyard. He was the only one in the village with a generator—or electricity—and he used it to play Brazilian music videos at ground shaking decibels.

There were a few huts scattered around the area, all with hand-harvested wooden poles for walls and dried palm leaves for roofs. This village looked exactly like the last. We made our way to the first wooden table and sat down. Our shaman ordered us two cervezas, and we stared at the barely-dressed Brazilian women dancing on the staticky tv. A few moments later we were each handed an already-opened 40 ounce bottle. The glass was thick and dark brown, powdery white scuffs were etched around the outside. There were no labels, no markings of any kind, and the bottles looked like they had been passed through hands for decades. There were no caps, nor did it look like there ever had been. Both men watched us intently, motioning for us to drink up.

While I remember that night vividly, I can't recall the name of that small village or the name of the older man that brought us our bottled beverages. I do distinctly recall that the beer was as warm as a fresh cup of coffee, tasted like syrup, and probably took 2 years off my life. I can still picture the tv screen glaring like a rectangular halo in the humid air, softly lighting the entire bar. I can hear that tinny music. I can picture the four of us sitting at a wooden table, several hours into the Pacaya Samiria Reserve, with nothing else around save for the lush rainforest, enormous anacondas, and rarely seen pink dolphins.

I wonder why things matter when they do. I wonder why this makeshift bar in the Amazon seems so important right now, why the exhausting night in New Jersey doesn't. But here I sit in Israel. One missed flight that left me scrambling to patch my travel plans back together. Five days, seven airports, and six flights — yet I still don't feel caught up. Tonight, I'll board a flight to Athens. I'll attempt to sleep on the deck of a ferry tomorrow, and in a week I'll be staying in a Palestinian refugee camp. I'm sure that someday all of these experiences will inevitably collide and this whirlwind of a trip will actually make sense. When I figure it all out, I'd love to tell you about it.