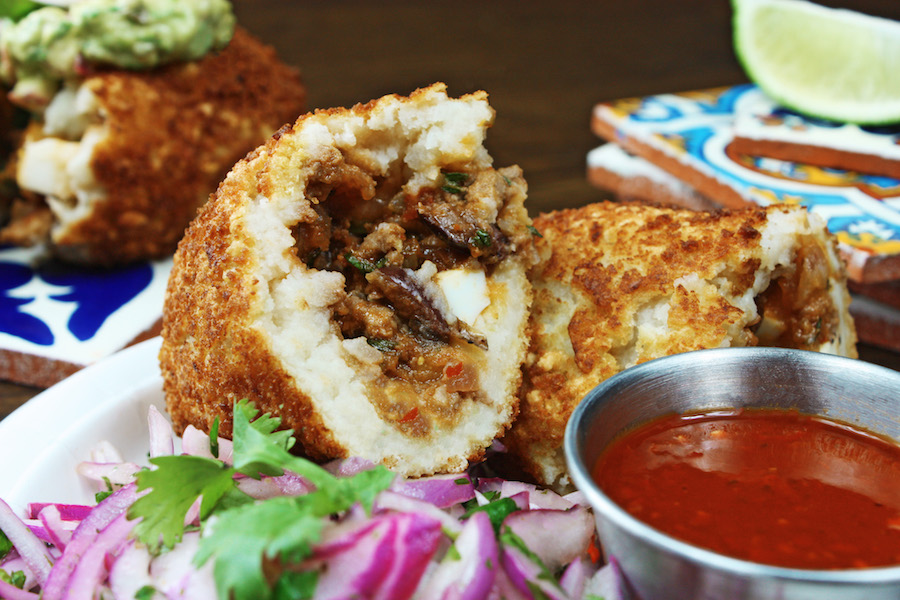 09 Jun

Papas Relleñas: Peruvian Stuffed Potatoes

The streets of Peru offer a culinary sideshow for anyone willing to buy a ticket. What's on the menu? Nearly anything you can deep fry or shove on a stick. The favorites— alpaca, ceviche, papas relleñas, and cuy—which you may know as guinea pig. All served with a gluttony of savory dips and sauces.

The roots of Peruvian food lie in Andean traditions. However, beginning in the 1500's, Peru became the epicenter of Spanish Colonial rule in Latin America. The Spanish brought with them their own culinary traditions. Later, the Spanish brought thousands of Chinese coolies (laborers) to Peru. Who, in turn, radically influenced Peruvian food. This cross-pollination of culinary traditions makes Peruvian street food among the best in the world.

While walking through Lima, we were drawn to an elderly woman sitting on a weathered stool on the sidewalk. She had fashioned a charcoal grill out of a rusted metal box of sorts. Over the grill she was frying these delicious potatoes. When they were finished cooking, she wrapped them in foil like a shawarma, packed the open end with red onions and cilantro, then topped it all with a spicy salsa. It was Beautiful.

We couldn't resist. We ordered one and went on our way. It was so incredible, that we turned around two blocks later and went back for another. And so began our obsession with Papas Relleñas. Here is our take on this Peruvian classic.
Papas Rellenas Recipe
INGREDIENTS:
MASHED POTATOES
8 to 10 small potatoes
2 egg white
¼ cup flour
Salt
BEEF FILLING
¾ pound ground beef
2 hardboiled eggs : chopped
1 small red onion : finely chopped
4-5 Kalamata olives : pitted and chopped
½ cup cilantro : chopped
½ cup tomato puree
2 cloves garlic : minced
1 tablespoon raisins : chopped
1 tablespoon hot sauce
Salt & pepper to taste
SALSA CREOLE
1 large red onion : julienned
½ cup cilantro : chopped
2 Thai chilies (bird's eye chilies) : finely chopped
2 teaspoons oil
Juice of ½ lime
Salt to taste
BREADING & EGG WASH
3 eggs : beaten
2 cups flour
1½ cups panko bread crumbs
2-3 cups canola oil
Mashed Potato
Boil the potatoes with peel on until completely tender. Drain and allow them to cool enough to handle. Peel the potatoes, mash the potatoes, then combine with egg whites and flour in a mixing bowl. Knead thoroughly to remove any lumps. Cover and move on to the Salsa Creole
Salsa Creole
Combine all of the ingredients in a mixing bowl. Cover and let rest while you make the fillng and assemble the papas relleñas.
Beef Filling
Start by hard-boiling two eggs.  Once that process is started, heat oil in a saucepan over medium heat. Brown the ground beef, then add garlic and hot sauce. When you can smell the garlic, add the tomato puree, olives, raisins, salt, and pepper.
Transfer cooked beef to mixing bowl and add the cilantro. Cover until ready to assemble.
Assembly
Take a large scoop of the potato mixture and work it into a flat disc in your hands. Add 1 or 2 tablespoons of the beef filing to the center, place a few pieces of chopped hardboiled egg on top of the filling, then mold the potato mash up and around the filling until you have something similar in shape to a potato. The filling should be inside the potato mixture and not exposed. Repeat with remaining ingredients.
Using an egg wash, coat each potato in egg, then flour, then egg, then panko bread crumbs. Let rest.
Cooking
Add oil to a frying pan or cast iron skillet. Heat over medium high heat to around 350 degrees. There should be enough oil in the pan to cover the bottom ½ of the potatoes.  Cook the potatoes on one side until golden brown then flip and fry until the other side is golden brown. Remove from heat and place on a paper towel lined plate until ready to serve.