08 Jan

Israel and Palestine : The Importance of Travel

I've lost myself in some of the most breathtaking landscapes on earth. I've walked villages, climbed temples, and swam at beaches that could rival any Hollywood set. Of course these places are special to me and I thoroughly enjoy my time exploring them. But these things all seemed so much more important to me when I first started traveling. I would try to align my itinerary with places that allowed me to put my toes in the sand and my head on a plush white pillow.

Somewhere between Villa El Salvador, Peru and Punta del Diablo, Uruguay this all changed. I'd seen something–experienced something that slightly altered the course of my life. I know this is going to sound cliché, but I promise you it's so unbelievably true. The rest of the world doesn't live like you. There are so many differences; culturally, geographically, aesthetically. Once you begin to explore these differences, it ignites an insatiable desire. One that demands to see it all, to experience as much of this world as possible. Not for the pretty beaches or the full-moon parties, but for the lifestyles, the stories, and the people. You crave the situations and the moments that can't be captured on camera and can't be summarized in a conversation. I know this, because it happened to me.
My husband and I rented a camper van in Tel Aviv, Israel. Our plan, much like most travelers, was to explore the acclaimed markets, lounge on the model-filled beaches, and attempt to do something that was unique to Israel. Create some sort of memory that would forever link us to that place. Our first night in Tel Aviv, we followed suit. We sat at a rooftop bar and watched as young tourists drank their weight in beer. We walked the beach at sunset, past people playing soccer, working out, and walking their dogs. We ate falafel from a small beachfront vendor and we ducked in a local bar for a welcome to the country toast. That was enough to properly satisfy our vacation itch.
We would spend the next few days seeing all of the necessary requirements in Israel: Jerusalem, Jaffa, Masada, the Dead Sea. Then we would make our way into the taboo territory of Palestine. Throughout our stay in Tel Aviv we asked several locals for assistance on planning our border crossing into Palestine. They all had a strikingly similar response. They would shrug, silently judge us, then ask blatantly, 'why would you want to go there?'
This was to be expected. Israel and Palestine shared land, but they definitely didn't share niceties. There was a palpable level of concern and anxiety that came with the territory and the conversation. Eventually, we stopped asking. Realizing that Israelis don't venture across the border much, and weren't excited about telling us how to do it either.
Our last night in the camper van, we decided to have a glass of wine on the roof and discuss our plans for the following day. A few minutes later we were met with a knock at the door. The owner of the van, Meir, dropped by to check on us. His soft spoken wife joined him.
We opened the door, stepped out into the rain and exchanged a few casual gratitudes. Conversation led to our remaining plans, which led to Palestine, which quickly led to an intense discussion. Meir was extremely kind and welcomed the controversial conversation.
We carried on conversation as though we had been friends for years. We asked him his thoughts on the people of Israel and Palestine, asked him about the tumultuous history between the two, current events, the media, his version of what is happening in the Middle East. He patiently and thoroughly answered every question. He asked us our thoughts, our intentions, what we were hoping to learn from visiting both Israel and Palestine. The four of us tossed the discussion back and forth in energetic volleys of possible solutions, rehearsed queries, and the inevitable 'what-ifs.'
Two days later, we are actually standing next to the 30 foot-tall cement wall that divides Israel and Palestine. There, we are accompanied by our guide and host, Ibrahim. A middle-aged man that was born and raised in the Dheisheh refugee camp in Palestine. A refugee camp where he, his two children, and his nine-month-pregnant wife still live. The refugee camp that we stayed in the night before, sleeping in the same house as Ibrahim and his family.
We stood next to the graffiti and art covered wall that barricades Palestinians into designated areas. We looked up at the sniper towers built into the wall and the barbed wire surrounding the area. We asked Ibrahim the same questions we asked Meir. We asked the whys, the whens, hows, why nots, and everything we could possibly muster up the courage to question. We quickly realized that we had an incredible opportunity on our hands. The ability to have an open and honest conversation with an Israeli in Israel and a Palestinian in Palestine, just two days apart.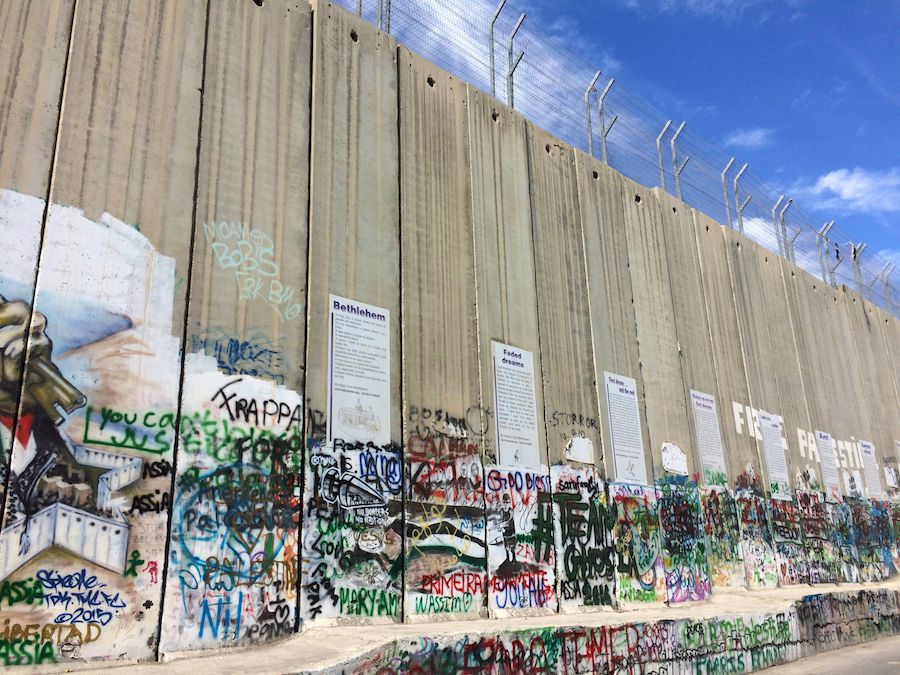 In both conversations, we shared our thoughts and our concerns. We asked for clarification on things we didn't understand. We truly tried to comprehend both sides of the story. Over the two weeks that we spent exploring this part of the world, we were able to have many conversations, ask too many questions, and walk away with new views and talking points.
I remember thinking that our media and news outlets do an embarrassingly poor job of representing what is actually happening on either side of the wall. News and media are private businesses trying to make a profit. Like any good business owner, they produce what sells. We've been reminded of this consistently through years of traveling, but it meant so much more to me now. I think it struck me harder on this particular trip because I was able to personify the arguments we constantly hear. I had people and families to place in the hypothetical situations.
My husband and I had slept in the bed of Palestinians. We sat in the living room floor of Ibrahim's home, playing ballon toss with his children and applauding as they recited their best English words for us. We shook hands with a man who taught history in Israel. We slept in the apartment of a college student in Jaffa. We walked the streets of Bethlehem. We had touched the wall that divides people, countries, and cultures.
I look back on those weeks and I don't remember the beaches. I don't think about that first celebratory night at the bar. I remember the people. The conversations, wanting to learn more, feeling like I knew things that others need to know. I remember feeling different and having a story to tell. Those are the reasons I travel. Those are the trips that I cross-my-fingers for each time I book a ticket or pack a bag.