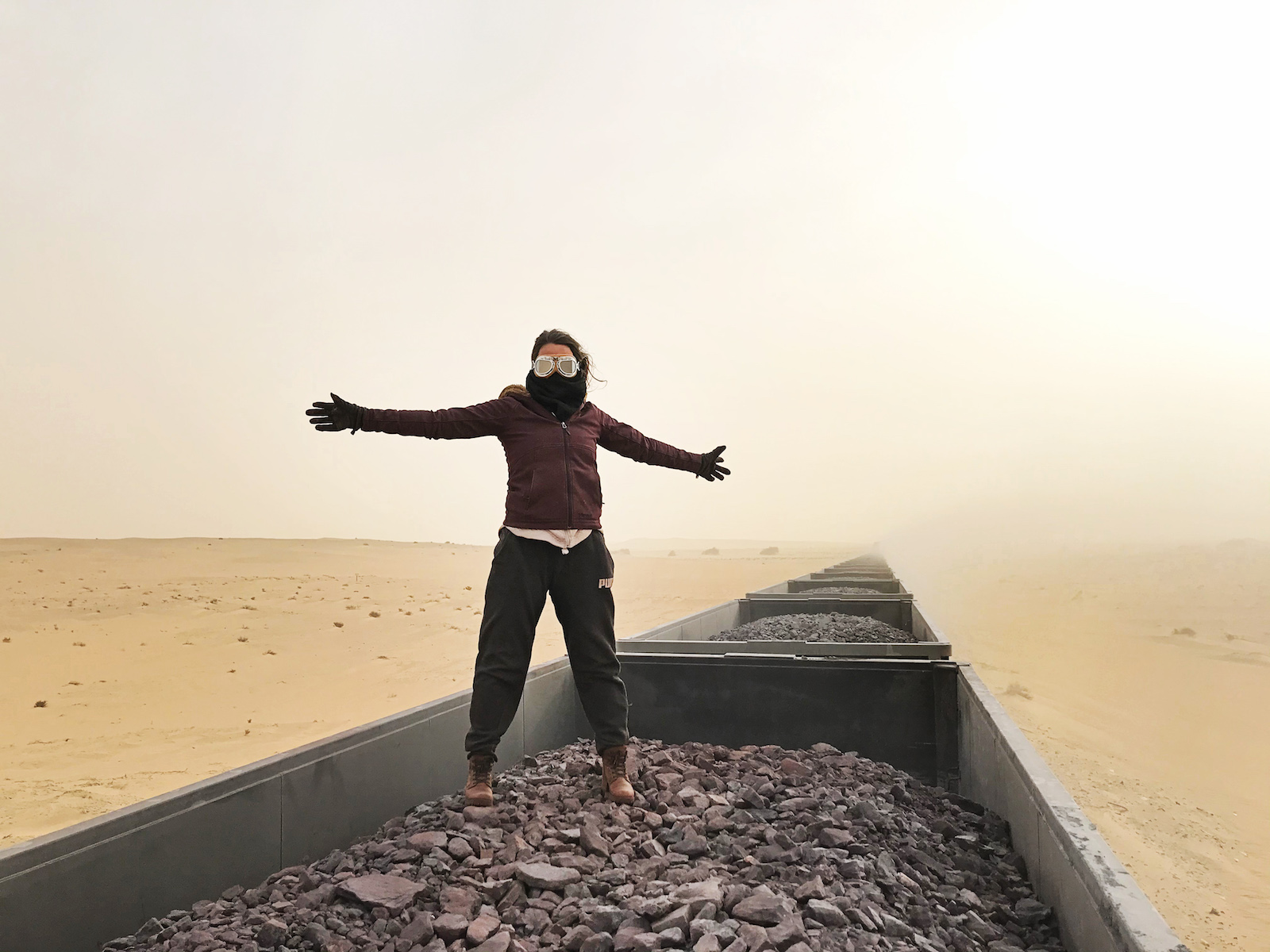 27 Mar

Riding the Iron Ore Train through Mauritania

A loud, high-pitch squeal screams from the railroad tracks beneath our container. The entire train jolts forward and knocks us backward. The train jolts again, slamming our car into the endless line of heavy metal train cars ahead of us. The horn blows ahead in the distance as the train slowly begins rolling. We climb and sit on the highest point of ore, stacked a few inches above the metal sides. It feels like we are floating. Our eyes slowly adjust to the darkness, as bursts of bright white and yellow-tinged stars develop in the sky above us. The sand outside looks soft and warm. The air is thick with soot and the wind is freezing. This is it, we can't turn back, we can't change directions – change our minds. We are in the middle of the Sahara desert, riding the infamous iron ore train across Mauritania.

For most travelers, riding the Iron Ore Train through Mauritania is a wild, unpredictable, and entirely foreign experience. One that holds a raw and epic allure unrivaled by heavily-touristed attractions. This isn't Disney World or a guided safari with plush seating and all-inclusive meals. There are no rules, no predictability, and absolutely no modern comforts. The days leading up to the ride, the night spent sprawled across hunks of iron ore, and the end of the journey are guaranteed to be uncomfortable at best. The train does not require athlete-level stamina or daring acrobatics, but you must be willing to get dirty and push yourself to mental and physical extremes.
The Iron Ore Train
The iron ore train cuts through the middle of the Sahara desert, which should automatically paint a hazy backdrop of sandy, wide-open expanses and intense sunlight. You are traveling through the Islamic Republic of Mauritania. The culture is unlike anything in the Western World. You will not find reliable public transportation or grocery stores, hotels are scarce, overpriced and will likely lack running water. Cab drivers are generally middle-aged men speaking French, Arabic, or occasionally both, typically in poorly maintained and unmarked cars. Once you are on the train, thick, metallic, sharp tasting reddish-black iron ore soot covers everything. It will stain your clothes and your skin, ruin camera lenses, sift into bags, and saturate every layer you are wearing. It will creep into every crevice of your body, filling your nose, throat, and ears, and grinding in your eyes and between your teeth.
This adventure is not yet a Mecca for tourists. There are few fresh faces that willingly climb on board a ferocious open-air train for hours upon hours of unobstructed earth, wind, and desert travel. The locals may question your intentions. The children will find fascination in your hair, your cell phone, your clothing, and your language. Teenagers may taunt, pulling items from your bags and attempting to sell them back to you for a small 'reward'. Eager kids may chase you around the tiny town of Choum until you reluctantly duck into a fly-infested tea shop. At which point, you will find a seat on the floor, preferably near an outlet, and, if you are a man, you will be offered a cup of sweet mint tea. Here you will sit, until you are inevitably lured out to the dusty stretch of train tracks. Then, you wait. At no point during this adventure will anyone be able to provide precise answers to your questions or concerns.
Riding the Iron Ore Train as a Western woman
As a Western woman traveling in Mauritania, you may face a unique set of hurdles and awkward situations. Be prepared to cover your body, hide your hair if needed, avoid the numerous men-only establishments, and don't shake hands with a man unless he initiates (which is rare). While women travelers aren't terribly prevalent in Mauritania, it is generally safe and most won't endure anything worse than some cat-calling from teenage boys. As far as the train, local women are not allowed to ride on the ore and are required to ride in the passenger car. Foreign women aren't bound by these rules and I personally didn't have any issues riding on top of the iron ore train.
What you need to know about the Iron Ore Train
When will the train arrive? I'm quite certain that nobody knows this answer. A man hauling bags of grain will mumble something about it arriving at 5:30PM. At 7:00PM, when you are still standing beside the dusty tracks, another man will tell you it should show up around 10:30 that night. Keep in mind, sometimes it does actually show up at 4:00PM. Get there early and wait. The last thing you want to do is miss the train and get stuck sleeping on the floor of a tea house.
Will the train stop? Maybe. For how long? Possibly five minutes, maybe more, probably less. I'm not being deceptive here. There is absolutely no timetable, no real structure, and no real answers. After all, isn't that why you are drawn to this untamed train ride in the first place?
What will I need? It takes a certain type of person to pack a bag of winter gear that will inevitably be destroyed, trek it across the sweltering Sahara desert by camel or in the back of a rusted van, linger too long in the minuscule downtown of a barren desert town, search for food and water in a place where canned tuna and flavorless loaves of bread are the only sustenance available, climb on the massive metal cars of an open air train, cover yourself with scarves, goggles, hats, gloves, layers of clothing, and then sit, eyes wide, on tons of chunky, jagged iron ore as you inhale mouthfuls of acrid dust for a 12 to 16 hour ride toward the coast of a relatively untraveled African country during frigid nighttime temperatures, only to arrive in the blustering sunshine of a foul-smelling fishing town. Yes, you must have a little steak of madness or an insatiable appetite for adrenaline if you are seriously considering this trip.
Thoughts on the train
Here is what I can tell you about the Iron Ore Train. It is unequivocally, hands-down, without question, one of the most epic journeys a traveler can take right now. It is one of the last real, raw, and unrestricted adventures left in our resort-filled travel world. You don't need tickets, you don't need permission, you don't need anything – except for an impenetrable sense of adventure and a sliver of lunacy.
If you are looking for something that will rattle you, shake you to your core, awaken the bored beast inside of you, my god – this is it! It is thrilling, exhilarating, unbelievably exhausting, and an absolute once-in-a-lifetime experience. Honestly, I still can't believe I pulled myself through this.
Would I do it again? Absolutely not! Well, probably not. It depends. It still amazes me how a little time and distance can begin to romanticize any situation.
Should you do it? Absolutely! As the wise Anthony Bourdain once wrote, "You only go around once." If you are looking for an otherworldly experience, a culmination of extremes and adversity, this is it.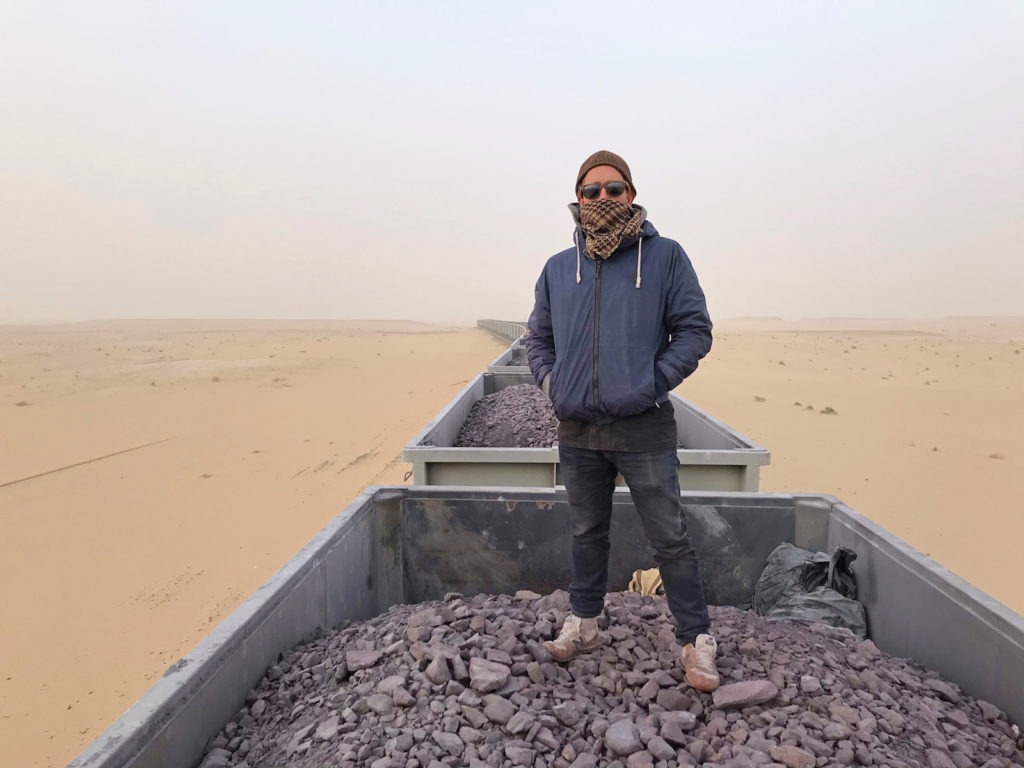 The truth
I could provide step-by-step instructions that, quite honestly, probably won't hold true by the time you get there anyway. But, removing the guesswork and having a well trodden path to-and-from the train would remove all of the glorious uncertainties that make this adventure what it is: savage and undomesticated. As all great travelers and explorers know, and often preach, the journey is half the fun. Figuring it out may as well be the other half.
Losing yourself along the way, missing busses, getting carted around town to multiple 'bus stops' trying to find a shared van only to be told there are no tickets for two days, trying to sniff out the mystery meat (is it camel, goat, tuna?) on the flat bread at the only operating restaurant in town, and killing ten hours in a town the size of a Walmart makes this trip exactly what it needs to be: unpredictable, a test of mental strength, patience, and resourcefulness. One does not ride the iron ore train across Mauritania simply because they are looking for easy transportation.
Honestly, once this adventure becomes well documented with how-to's and easy guides, it will lose all of it's grimy luster. I implore you to resit the urge to figure it all out ahead of time. As someone that revels in the uncertainties and the struggle, I can't bring myself to piece together the abstract intricacies of this epic train ride. It needs to remain elusive and slightly mythical. But, a little useful information can go a long way. I will divulge some tips on how to ride the train, but I will not pad the trip or give away the guts.
Common Questions
Where can I get on the train? Nouadhibou or Choum are the two most common stops, and for good reason. They are the only two actual stops. Some absolute sadists decide to start even deeper in the desert at the mining center of Zouerate, which is only accessible by train. For most travelers, Choum is a sufficient departure point.
Where does the train go? The train is loaded at the iron mine in Zouerate. From there, it heads to the port of Nouadhibou and then back.
Should I ride it empty or with iron ore? Most likely, you will arrive in Choum because you want to ride the train to the coast. This allows you to ride atop the mounds of iron ore. Trips taken in the opposite direction, from Nouadhibou to Choum, are done in empty, dusty train cars. This seems to be the less intense, more sheltered version of the ride. Most adventurers tend to do it the hard way. You've already trekked your way to Mauritania, you may as well make it as miserably pleasing as possible. Not to mention, photo ops and bragging rights.
How do I get to Choum? Plan some extra time and extra cash and ask around. There are shared vans and private taxis. The prices vary greatly depending on who and what you choose. Don't be offended if you are shoved in the back of an already overcrowded van, or if you are told to come back in a few days. There isn't an expeditious or leisurely way to do this trip. It is, undoubtedly, one of necessity.
Can I ride inside the passenger train? Yes. Do you want to? No. It's completely overcrowded with cramped, sweaty people sitting, standing, and sleeping on old seats and on any part of open floor. There is no bathroom, no air flow, and no breaks. You will also need to purchase tickets.
Who rides on top of the train? Local men transporting themselves and goods between the desert towns. Local women are forbidden from riding on the ore and must take the passenger train. Foreign women are a rarity on top of the train but don't seem to cause any issues.
What is in the cars? Massive piles of heavy, dusty, jagged, sharp-edged iron ore. Also, whatever the local men are transporting. Empty containers, goats, grains, bags of who-knows-what. Most travelers try to get their own car, but this isn't always easy. There are a few very abrupt and short stops along the way when locals may climb in or out.
Are there stops along the way? Contrary to what I just said, no. The train may stop for moments at a time, but these will be in the middle of absolute desolate desert and usually offer no predictability.
What should I do if I have to share a car with locals? Consider yourself lucky. You will have an even better story to tell. Bring extra bread and water, as it is tradition and culturally expected that you share. Locals will most likely make and share their ceremonial sweet tea, three cups at least.
Where do I get off? Good question and one I still can't answer for certain.
Riding toward Choum: you will know when you reach Choum as it is the only sign of life you will see in 12 to 16 hours. Get off at the small town.
Riding toward the ocean: this can be tricky. There will be a stop with a bunch of cars about 12 to 16 hours after leaving Choum. You can get off here and hail a local car. We did not do this, as we wanted to ride all the way to the end. We took the train about 45 minutes past the car park and jumped off when it stopped in front of the fishing port, which, in full disclosure, the locals found rather bizarre.
What do I do when I get off? Hail a car or start hoofing it somewhere with running water. Hotels in Nouadhibou are scarce and expensive. If you are disembarking in Choum, you will arrive in the middle of the night and will have to find a 4×4 truck to take you to the town of Atar. This drive lasts a few hours.
Will I sleep on the train? Maybe. Probably not. We did, but it took a ton of creative engineering, huddling into a strategically stretched formation in a carved-out section of ore. Honestly, I don't think this would have worked, except we were on day four of no sleep and our bodies decided to override the horribly uncomfortable foundation.
What about a bathroom? Great question. You are on the train for several hours, and, if you are lucky, you will be drinking a lot of water. For men, this is easy. For ladies, please take note! This may be the most arduous part of the journey. Choose a designated corner, brace yourself against a wall or corner, and hold on tight while you try to remove layers of soot-covered clothing.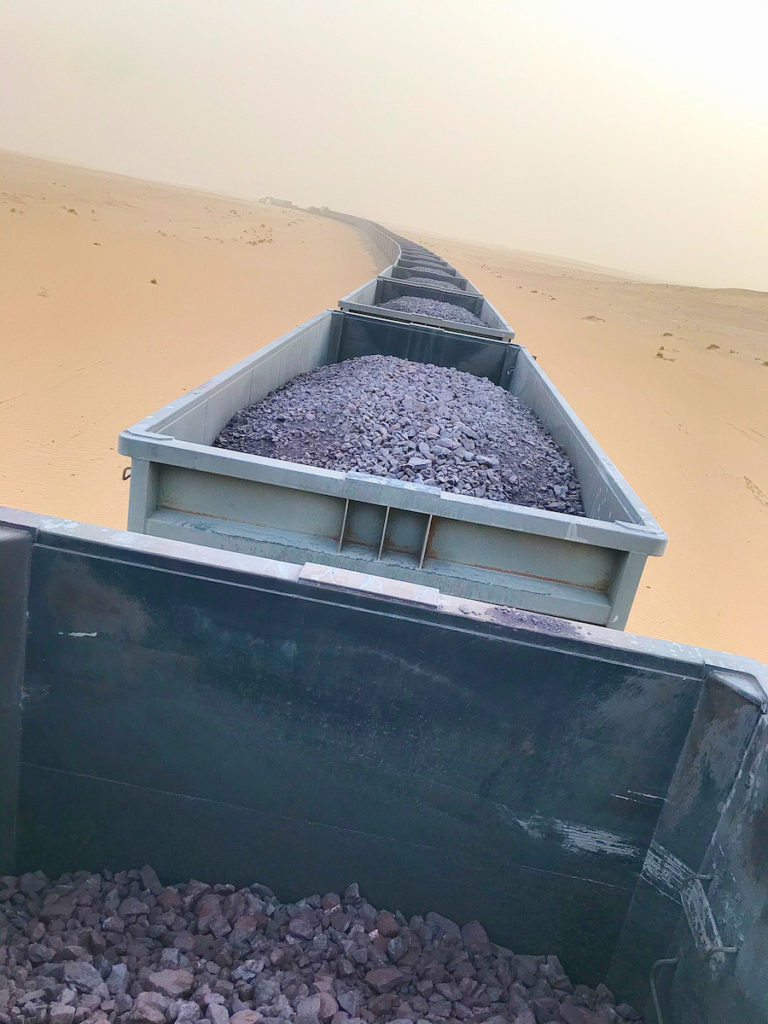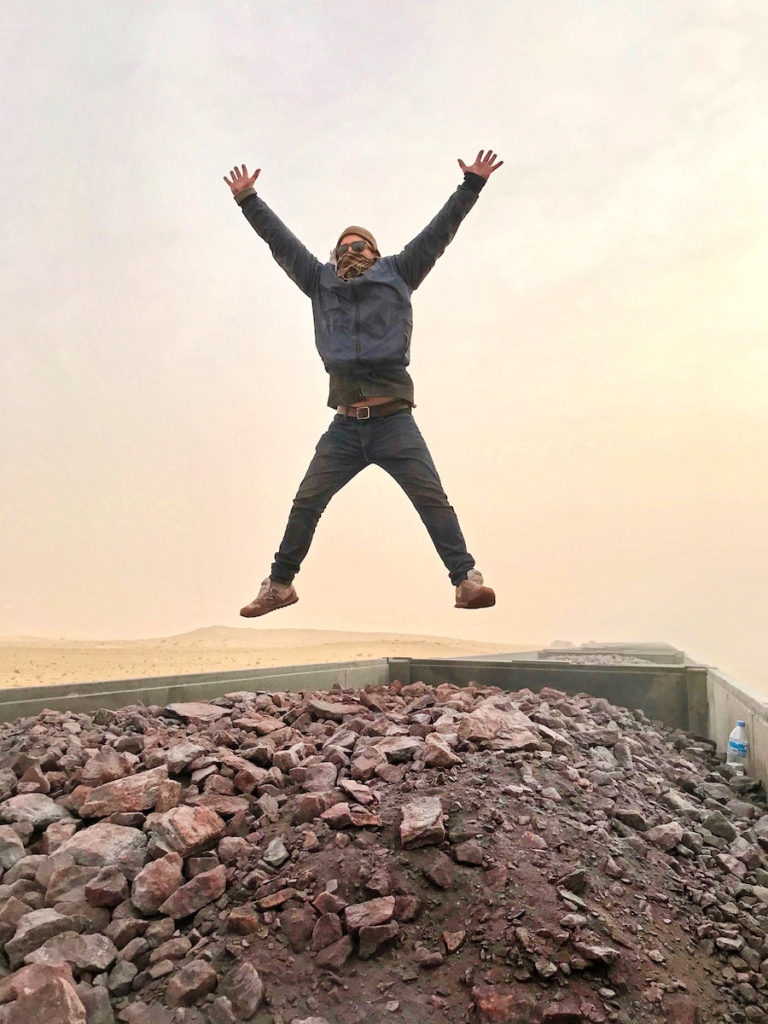 Any tips or words of advice?
○ Take more water than you want to carry. Not only are you in one of the driest places on earth, you are swallowing thick globs of dust almost constantly. Your mouth will feel like a web of cotton and taste like pennies. You will want more water.
○ Don't overthink it, locals do this every single day. It is normal and not actually that dangerous.
○ Take some time to roam the local towns, most of our stories are from the moments leading up to the ride.
○ Be very cognizant of what you put in your body in the hours leading up to the ride. No bathroom + no running water = no experimental eating.
○ The train will jostle and shake constantly. Frequently, your car will slam into the car before it, then ricochet backwards. If you are standing on the ore, or trying the dangerous move of hopping cars, you can easily be knocked down, or off. Though, after a few hours, you will start to learn this surprisingly predictable rhythm.
○ Mauritania is a dry country that forbids the sale and consumption of all alcohol, so don't set your hopes on a celebratory cocktail. Though, word on the street says there is a shady Chinese restaurant on the outskirts of Nouadhibou offering illegal libations along with other questionable things.
After Thoughts
In the hours leading up to the train ride I was excited and nervous. Much of the anxiety did come from the cultural and religious obstructions that accompany a Western woman in an Islamic country. Most of the men would not speak to me or even look at me. I was not allowed in many establishments and I had to pretend to be all but invisible. This affected the trip in both positive and negative ways, but it was not a deterrent. While I missed out on some of the honest conversations that so often garnish a trip, I was given a firsthand experience of a life I knew very little about.
Our train arrived at 9:56PM on December 31, 2019. We had spent the previous 13 hours waiting in the parched town of Choum. We boarded the train by starlight, in a potent rush of pure exhilaration and nervous energy. The ride itself is a story for another time, but one that I will never forget. We arrived in the port town of Nouadhibou a little after noon the following day to an electric mix of exhaustion and adrenaline.
The edges of this trip were rough, as they should be. Like all great adventures, this one will eventually become marketable. People will flock to the lawless confines of open-air train cars in the Sahara and it will gradually gain fame. Rules and tickets will be added. Regulations, tour guides, and how-to guides will dull the experience. Like a scorching, minuscule version of Everest or the El Camino, the outskirts will be filled with eager souls trying and vying for that final thrill. Discarding parts of themselves and piles of rubbish along the way. Someday, this adventure will be on a top-10 list, then a scheduled itinerary. The edges will soften, the dust will settle, and it will devolve into normalcy. To me, it will forever be the place of pure indulgence. Never have I relied on adrenaline so much in my life, and I doubt I ever will again.
The Iron Ore Train though Mauritania has garnered a cult following, and for good reason, it is raw and unforgiving, wild and intoxicating. This trip is not for everyone. If you are willing to make yourself vulnerable and throw all caution to the desert wind, then stop reading and start packing your bag.