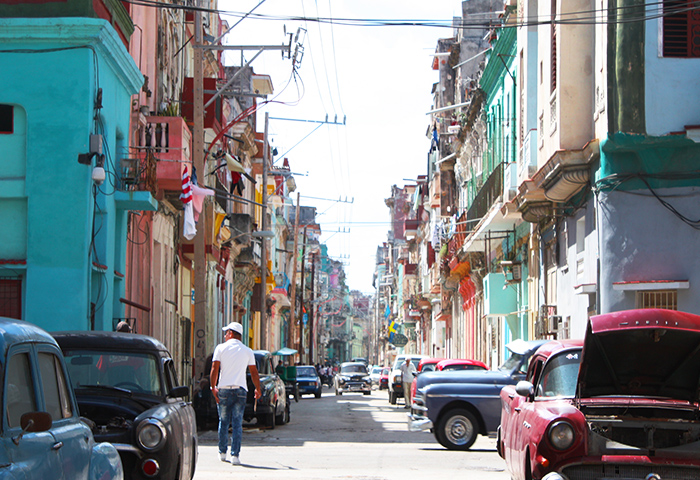 18 Apr

How to travel to Cuba as an American

Travel to Cuba —for Americans—is the forbidden fruit of travel destinations.

To some, it was the final frontier to add to a dwindling bucket list. To others, it was a test. A self-imposed challenge to one's wit and ingenuity. In either case, traveling to Cuba presented an opportunity to recapture the magic that the daring fortune-hunter experienced when they first began traveling.

Why? Because going to Cuba, until recently, was prohibited. There were only a few narrowly defined (and strictly enforced) exceptions. As a result, the audacious traveler had two options. Request a special license or travel illegally via a third country. The problem? Most regular travelers did not have the proper justification to get a license to visit legally. Leaving only option two—fly to Canada or Mexico, then Cuba. Naturally, this route came with a substantial risk. So only the boldest traveler took on such an endeavor. Given the risks, reaching Cuba granted you admission to an exclusive club of adventurers willing to risk nearly everything to continue their journey.

Here is our field guide for how to travel to Cuba as an American. To learn more about Cuba and its people check out our article Thoughts on the Real Cuba.

Can Americans Go to Cuba?
As of 2016, the rules have changed making Cuba far more accessible. Americans can now travel to Cuba, but there are still some limitations. Basically, you can visit Cuba if your trip fits in one of twelve categories.
So how does this help you? 
Well it appears you self-certify which of these categories you qualify for when checking with your airline. Perhaps more importantly, it seems as though no one in either the States or Cuba verifies that your trip does in fact qualify for one of the categories
---
How To Go Cuba As An America
Below is a list of everything you need to do to visit Cuba as an American.
1. Buy a Plane Ticket to Cuba
The Department of Transportation approved these airlines to fly to nine different destinations in Cuba, including Havana.
American Airlines
Frontier Airlines
JetBlue Airways
Silver Airways
Southwest Airlines
Sun Country Airlines
United
Spirit
Alaska
Delta
Each is offering great deals trying to fill the planes.
2. Qualify For One of these Categories
Remember, you cannot travel to Cuba as a tourist. With a little creativity, however, you may be able to fit in one of these categories:
Family Visits
Official Business of the U.S. Government
Journalistic Activity
Professional Research and or Meetings
Educational Activities
Religious Activity
Public Performances, Clinics, Workshops, or Athletic and Other Competitions
Activities of Private Foundations or Research or Education Institutes
Exportation, Importation, or Transmission of Information or Informational Materials
Certain Authorized Export Transactions
Support for Cuban People
Humanitarian Projects
Based on our experience, and those from other travelers, these categories are pretty elastic. Does attending mass qualify as a religious activity? Does posting a story or video about your trip meet the journalistic exception? How about "support for the Cuban people"? What is that? We're not sure, but maybe that is the beauty of it all. There seems to be a lot of room to maneuver in these categories.
Lastly, keep in mind that it is the United States' government that requires you to fit into one of these categories. Not the Cuban government. No one in Cuba will ask you to produce anything to verify your activity.
3. Buy Cuban Health Insurance
It appears Raul does not want free-loading Americans draining the resources of his socialist utopia. Also, Cuba does not accept American Health Insurance. So Americans traveling to Cuba must purchase special health insurance.
There are some mixed reviews on this requirement. It appears most airlines include insurance in the price of their ticket. Others airlines sell insurance for an additional charge.  So confirm this issue with your airline. Either way, your arriving airline ticket serves as "proof" of your insurance. So be sure to keep this with you. The going rate is about $25 to $100 depending on the length of your stay.
4. Buy a Cuban Tourist Visa
Ironically, while you are not allowed to travel to Cuba as a tourist, you must have a tourist visa to enter the country. Tourist Visas are provided by your airline for a fee. They are $50.00 to $100.00 depending on your airline. They can also be ordered in advance through third party brokers.
5. Get the Right Money
You will need cash to travel to Cuba. Your credit and debit cards will not work. Cuba has two types of currency. One for them, and one for you. Cubans use the Cuban Peso (CUP). Tourists are issued The Cuban Convertible Peso (CUC). The tourist Cuban Convertible (CUC) is pegged to the US Dollar. The Cuban Peso, on the other hand, is not. One U.S. Dollar (USD) equals about 25 Cuban Pesos (CUP). The current rate can be found here.
Based on how things are priced differently for each currency, it seems at least one use of the special tourist money is to ensure tourists pay much more for most things than the locals.
Cuba Travel Tip: There is a 13% service charge to exchange US Dollars in Cuba. So you can save yourself some money by bringing Euros, Pounds, Mexican Pesos, or Canadian Dollars. Also, if you do bring dollars ask the locals if they will exchange them for you rather than the currency exchange. Many businesses will only charge you a 10% service charge, not the official 13%.
Credit Cards in Cuba: You cannot use your American Credit Cards in Cuba. While the recent change in regulations does allow for Americans to use their credit and debit cards in Cuba, the banks have not yet had a chance to put the infrastructure in place to accept these forms of payment. So bring some cash. Lots of it!
Cuba Travel Tip: Book and pay for your hotels in advance. It reduces the amount of cash you will need to carry for the trip.
6. Have a Good Time
Cuba is more than beautiful beaches. Cuba is a cultural mecca. Incredible food. Irresistible music and fascinating people. Jovial, outgoing, and animated. Cubans are a group unto themselves. Exuding a good-humored confidence known only to those who have proverbially been to hell and back and lived to tell about it. The confluence of history, culture, and the Cuban identity is what makes traveling to Cuba so enticing.
So take a shot while Cuba is still largely unknown. While there is still some risk. In a few years, it may be just another Cancun. Safe. Predictable. Unable to offer the raw self-affirming experience Cuba has offered to generations of intrepid American Travelers. Now is your chance.
Hasta La Victoria, Siempre!
UPDATE: On June 15, 2017, President Trump announced that his administration would be changing the rules on visiting Cuba. The new regulations, however, have not been issued. The consensus seems to be that the new regulations will tighten, but not eliminate Cuba travel.  The situation is fluid. Stay tuned!
For some more insight see our article Thoughts on the Real Cuba. For more information and to see if you qualify to travel to Cuba from the US please see the State Department's Website.