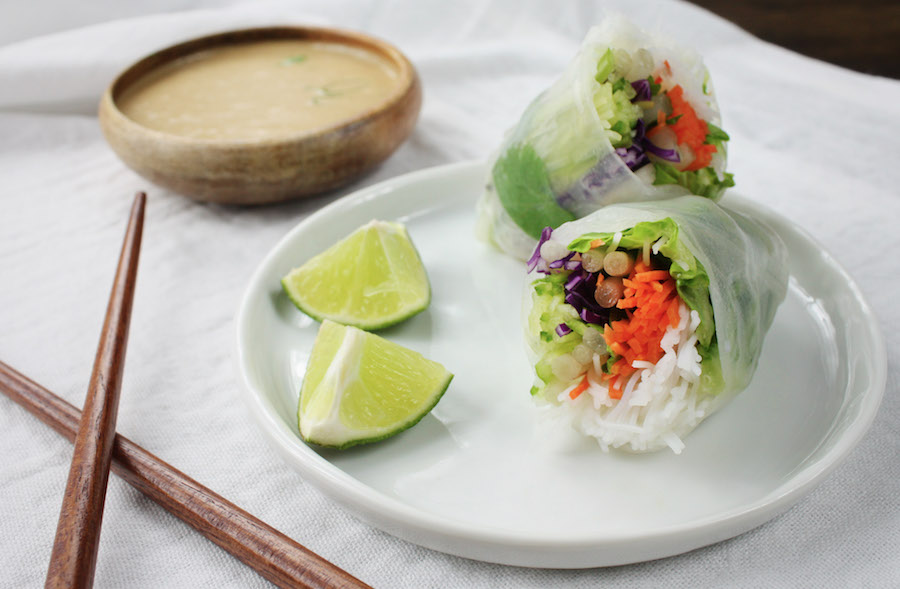 16 Jun

Healthy Easy Vegetable Spring Roll Recipe

Vegetable spring rolls, the lighter and healthier version of everyone's favorite egg roll. The ingredients are simple and easy to prepare. Spring rolls are a delicious, light, and healthy snack. Serve these as an appetizer or add shrimp or tofu for a light meal.
Ginger – Peanut Dipping Sauce Recipe
INGREDIENTS:
1/4 cup Peanut Butter
1 tbsp Soy Sauce
1 tsp White Wine Vinegar
1 Garlic Clove : Smashed
1 Inch Fresh Ginger : Chopped
1 Thai Chili
1 tsp Fresh Lime Juice
Warm Water
Blend all ingredients together until completely smooth. Add a small amount of warm water to thin the dipping sauce as needed. Thai chili may be hard to find, but you can easily substitute fresh Serrano, Sriracha, or another Asian chili sauce.
Healthy and Easy Veggie Spring Roll Recipe
INGREDIENTS:
Rice Paper Wraps
Carrot
Cabbage
Cucumber
Green Onion
Cilantro (or Mint)
Thai Basil
Bean Sprouts
Baby Lettuce
Rice Noodles
The amount of each veggie is going to depend on the size of your rice paper and how many spring rolls you want to make. I generally start with 1 large carrot, 2 green onions, 8 lettuce leaves, 1/4 of a cucumber, a handful of bean sprouts, and a small piece of cabbage. Herbs are sprinkled in lightly, so a few spring of each will generally work. This should be enough for roughly 8 spring rolls.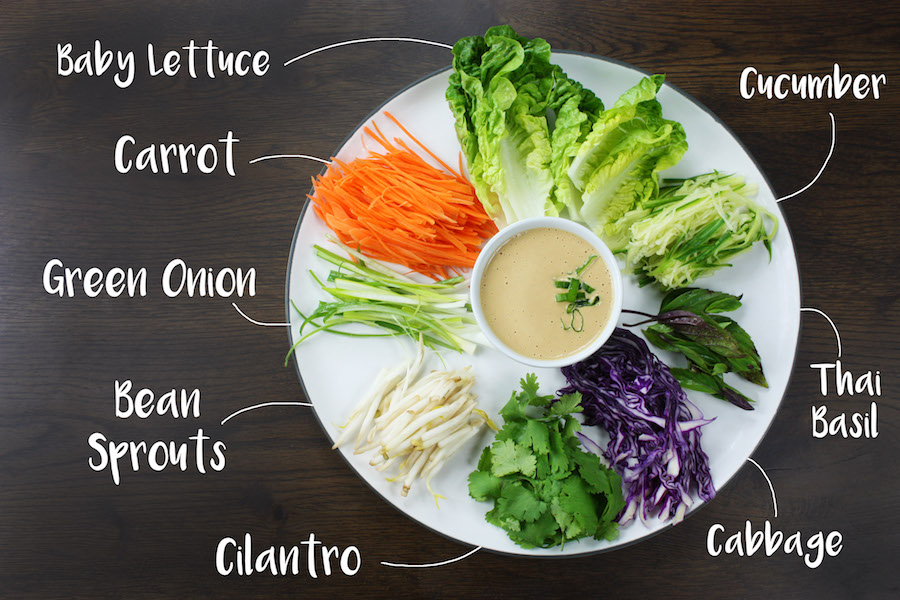 PREPARATION:
Boil the rice noodles according to package directions. Set aside to cool.
Remove the stems from the Thai basil and cilantro. Cut the carrot, cabbage, cucumber, and green onion into very thin strips. Separate the baby lettuce leaves.
Soak one sheet of rice paper in warm water for 15 – 20 seconds. Lay on a flat surface. Place a small amount of each of your veggies and herbs on one half of the rice paper, trying to keep everything a half-inch from the edges.  I like to stack mine in this order: piece of lettuce, rice noodles, carrot sticks, cabbage, cucumber, bean sprouts, green onion, Thai basil, then cilantro. Starting with the half of the sheet that you placed the filling on, fold the edge of the rice paper up over the filling, fold in the sides, then roll to seal it.
Dip and enjoy!
Tip : Your first roll won't be pretty. Use this one as a 'taster' to make sure you have the right balance of ingredients. As you continue to make the rolls, you will get more confident in your stuffing, tucking, and rolling skills. It takes a little practice.
Alternatives : You can fill these rolls with any assortment of veggies, meats, seafood, or fillings.