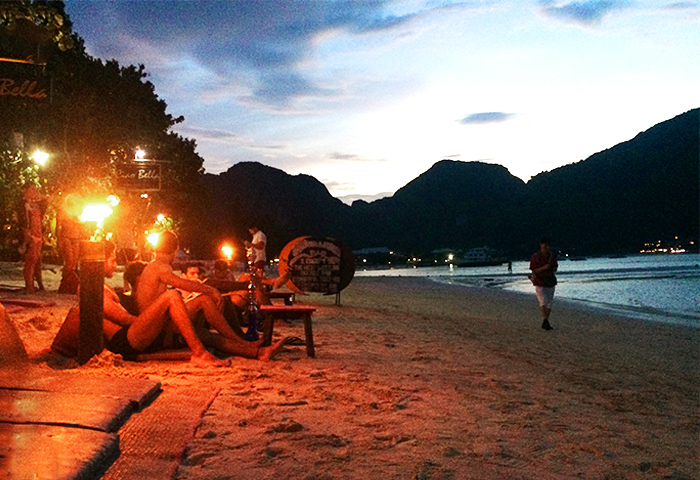 02 Jan

Don't Drink Buckets of Alcohol

Don't drink buckets of alcohol. I feel like I should have known this, or this wisdom would have been passed down by a concerned parent or experienced friend. But it wasn't – and I'm sure I can say this about any liquid you are contemplating drinking from a bucket, it probably won't end well.

Sunburned and excited, we found two unoccupied rugs in the sand and sat down. Rumor has it, when in Koh Phi Phi you must partake in a ritualistic evening of drinking beneath the stars with other well-cooked tourists. We had our seat. The crystal-clear Thai water gently broke on the shore in front of us and massive limestone crags framed in the bay. The view was ripped straight from a postcard.

Our animated server quickly greeted us with an ashtray and a smile. We were weak and at the mercy of one of the most breathtaking locations on earth. We eagerly agreed to two of their local 'specials.' A few moments later we were handed our lukewarm cocktails. A fire-engine red sand bucket filled with a murky liquid, a few already melting ice cubes, and a handful of straws. Optimistically, we'd ordered one each.

What happened next was incredible. Unfortunately, I don't remember much of it. What I do know, is that the night was filled with lounging in hammocks, dancing with locals, navigating outdoor squatty-potties, exchanging travel tips with tourists from all over the world, and I distinctly remember a French man licking my arm.

The next morning, we remembered exactly how much fun bucket-sized cocktails could be. The sun was brighter, practically blinding. It was hot, uncomfortable and sticky. I was hungry, dehydrated, and missing my favorite pair of sunglasses. Luckily, Thailand is wise enough to have a cure for this type of situation. I would have handed over my entire life savings for the ungodly goodness that's perfectly packaged inside a coconut. The locals are keen to this and were ready. $1.50 and the inimitable nectar of two cold coconuts later, I almost forgot about the plastic bucket of regret I had cheerfully drank the night before.

As an experienced friend, I adamantly urge you to say no to plastic buckets of fruity cocktails. But, if you ever find yourself on the beaches of Koh Phi Phi, leave your sunglasses at home and go make terrible decisions with the rest of the gringos. You're sure to regret it.