14 Feb

5 Reasons to Plan a Trip to Holbox Island

I've raved about this beautiful destination before and I'm doing it again. The beauty of Holbox Island lies in its contradictions. There is a paradoxical balance between growth and preservation when it comes to the island's gorgeous beaches and charming remoteness. The island is riddled with chic restaurants and boutique hotels, yet the town lacks any semblance of basic infrastructure. Only here can one watch an ATV try to negotiate a seemingly impassible road from the comfort of a trendy restaurant serving hand-crafted cocktails. Or enjoy incredible tapas from wooden swings hastily strung around a dusty path leading to incredible ocean views. Palm trees and mud puddles go hand-in-hand, the pace is slow, and the people are just as colorful as the graffiti covered walls.

Think of Holbox as a hidden paradise that nobody wants to expose. Isla Holbox exists as a destination in denial, refusing to accept its own success. Eventually the spillover from Cancun and Tulum will wash ashore on this extraordinary island, so get here quick.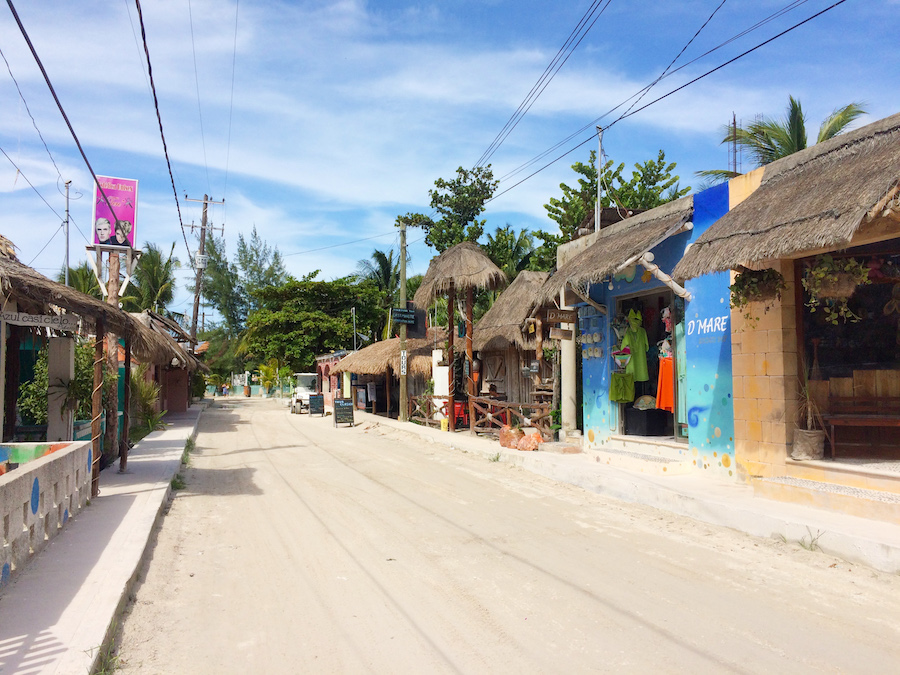 Aside from the undeniable beauty, the relaxed atmosphere, the interesting expats, and the colorful culture, here are 5 more reasons to visit Holbox Island:
THE SANDBAR
You know those places that never seem to live up to the photos? This isn't it. In fact, this is precisely the opposite. The pictures don't do it justice. They could never properly capture the vast ocean, the pinks, oranges, and blues, the vibrant flamingoes, or the local charm. When the water recedes for the day, you can walk, or wade, your way to the sandbar. It starts at the edge of town and wraps around a small section of the island. Once you're out on the sandy strip, you'll be surrounded by pelicans, pink flamingoes, horseshoe crabs, schools of exotic fish, and one of the most beautiful backdrops you've ever laid eyes on. If you're lucky, you'll see whale sharks and dolphins. Depending on the time of day you venture out to the sandbar, it can be an adventure all it's own. All of that aside, there is something incredibly thrilling about walking in the middle of the ocean. I don't want to say it feels like walking on water, but it kinda feels like walking on water.
SUNSETS
There are several destinations that offer incredible sunsets. What sets Holbox Island apart is the backdrop that accompanies these vibrant occurrences. Brilliant hues of pink, yellow, and orange light up the night sky while silhouettes of fishing boats fill the horizon. On the shore, people gather at wooden-hut restaurants to eat the daily catch and sip on cheap beer while watching the sun fall behind the water. The colors, the ambiance, and the scenery all make for unforgettable evenings.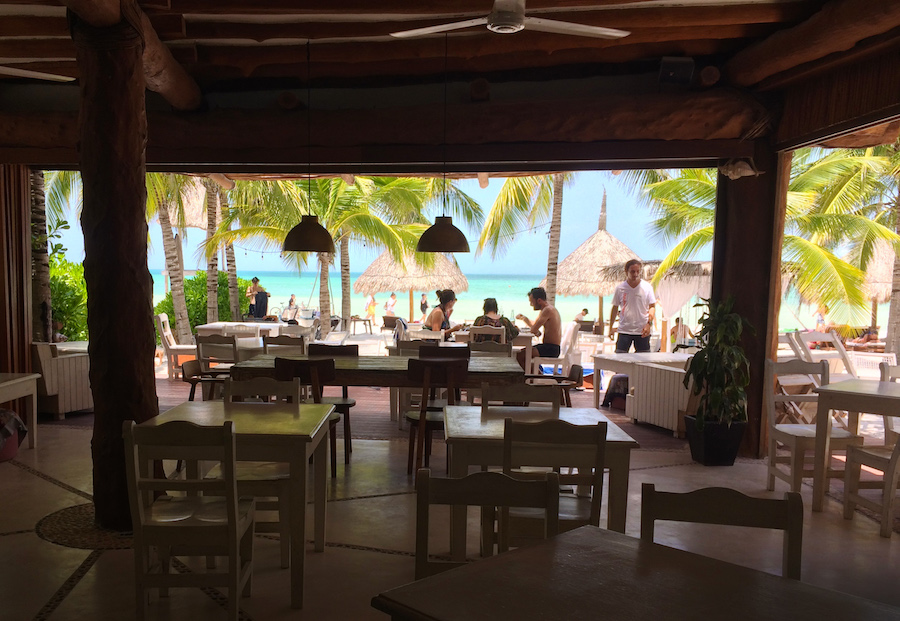 RESTAURANTS
The lack of refinement can be seen in the dirt roads, the roaring dirt bikes, and the seemingly nonexistent rules. When it comes to the restaurants, there is a comfort level for everyone. Every cuisine, every price point, and every setting is available. Whether you want street food or fine dining, you will find it here. Fresh juice bars are plentiful. Ice cream shops are speckled around town. Noodle shops, sushi, salads, pizzas, and hot dog vendors can all be found on one of the easily walkable streets. In the main park you will find more traditional food carts and local fare. A walk toward the edge of town lands you in the posh resort-style hotels that offer incredible views and meticulously plated food. Whether you're looking for inside, outside, beachfront, fancy, or fast — Holbox has it.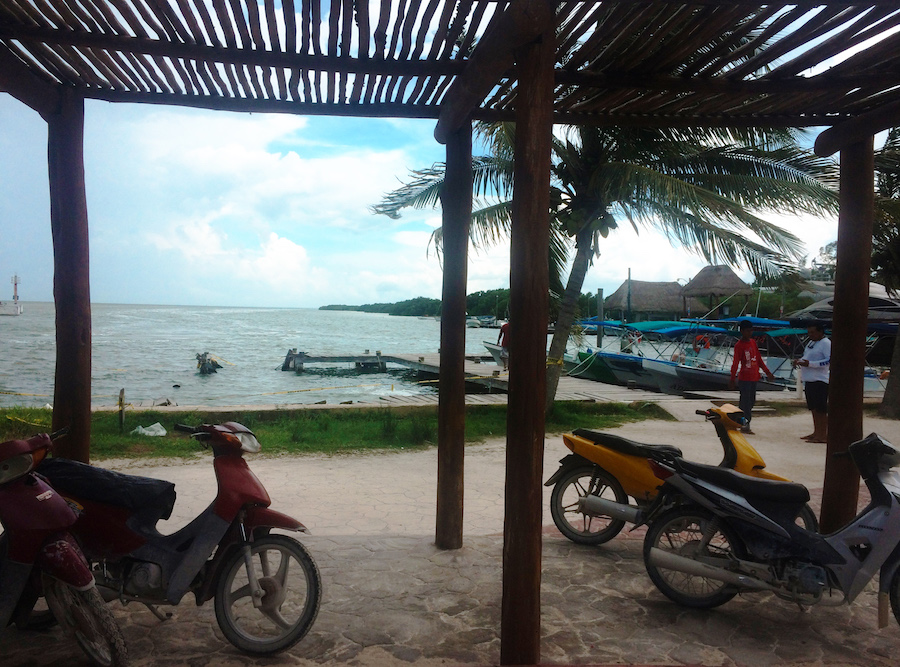 GETTING THERE
This seems like an odd thing to add to the list, but I promise you it really is part of the fun. Once you find your way to the port town of Chiquila, you will need to cross the thin strip of water that separates you and Holbox Island. There are a few ways to do this, but I urge you to avoid the ferry and hire a fishing boat from the pier. With a little bargaining power you can negotiate a private boat ride with a local fisherman for less than the cost of the touristed ferry. The ride lasts about 15-20 minutes and allows you a truly unique experience. The journey continues once you arrive on the island. You will have a few options for getting to your final destination. The best option is to walk, though streets may be flooded and muddy. Otherwise, you can rent an ATV or pile on the back of a golf cart for an escort into town. Whichever way you choose, it is sure to be a thrill ride.
WILDLIFE
From pink flamingos to sea turtles and whale sharks, there is no lack of exotic wildlife on Holbox. Excursions can be arranged to ensure sightings. If you're feeling adventurous, a little wandering around will usually do the trick. There is an extensive amount of untouched nature. Lagoons, nature reserves, and parks make the perfect setting for a vast array of birds, reptiles, and sea creatures. With a little planning and an ATV you can wander the island and explore all of the sights and sounds yourself.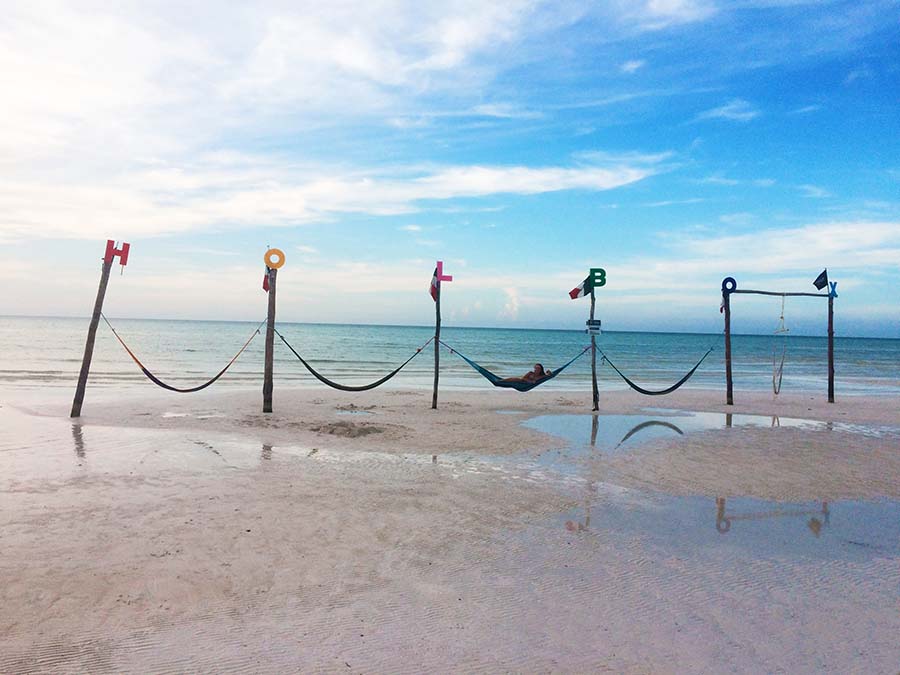 Holbox island is an adventure. Don't expect all of the refinements from home. Be prepared to get your feet wet and keep an open mind. There are more than enough amenities for a comfy vacation, but I don't think that's what draws people to Holbox. This island attracts a special type of traveler and it does so for a reason. If you're looking for an adventure, an offbeat destination, and an unforgettable experience, you have to visit Isla Holbox.
Everything you need to know to help plan your trip is right here in our Isla Holbox field guide.