22 Aug

5 More Unique Beaches To Add To Your Bucket List

Here's a look at 5 more unique beaches that you have to add to your bucket list! If you're looking for stunning destinations to inspire your next trip, take a peek at these incredible beaches from around the globe.
---
1. Benagil Sea Cave : Algarve, Portugal
Best accessed via boat or kayak, this natural grotto on the coast of Portugal looks like a fairytale. Situated off Benagil beach, it can be bit tricky to get to. Several tour companies offer trips to and from the cave. Depending on the tide and the time of day, it may be possible to get out of the boat and swim inside the cave.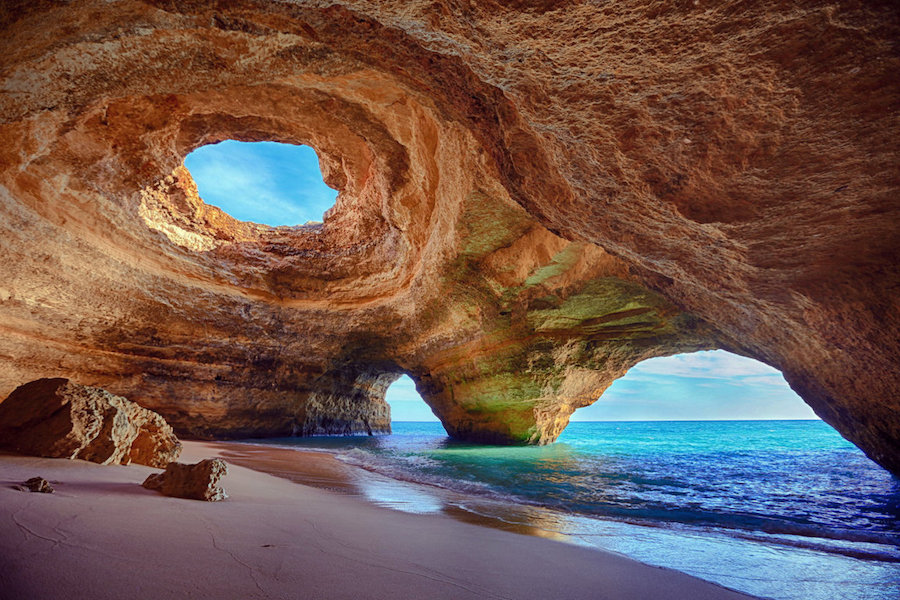 Photo Credit : Algarvetips.com / Reddit
---
2. Maya Bay : Phi Phi, Thailand
Maya Bay is a breathtakingly beautiful bay that's surrounded by 100 meter high limestone cliffs. The bay consists of several beaches, most are small and some only exist at low tide. The main beach is roughly 200 meters long and is covered in powdery white sand. The entire bay is a large reef boasting spectacular coral and colorful fish. Sharks are known to frequent the area for early morning swims. You may have to compete with crowds of eager beachgoers for the best spots.  Since the 1999 release of The Beach, this once hidden gem has become a tourist mecca. Regardless, Maya Bay is still worth the trip. If you want a unique and less touristy way to experience all this small island has to offer, try Maya Bay Sleep Aboard. You won't regret it. Read our story about Sleeping in Paradise.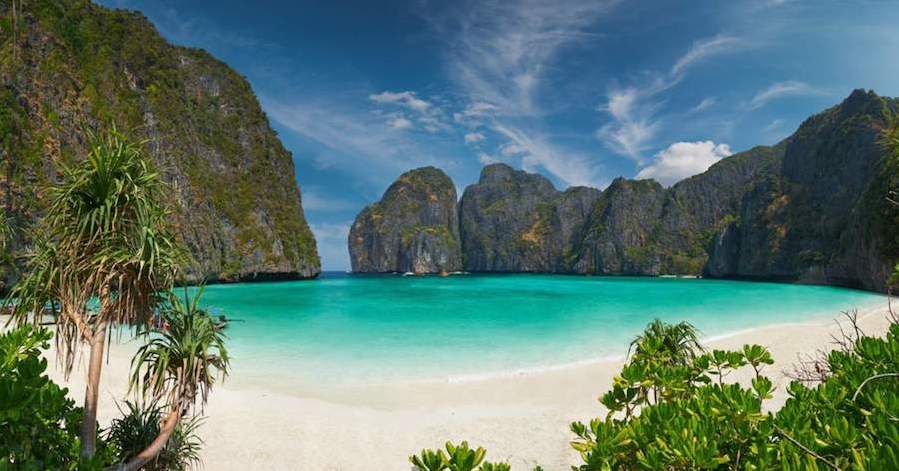 Photo Credit : Walkabout Tour Phuket / Klook.com / Phutara Fanta Resort
---
 3. Ras Shitan : Moon Island, Egypt
While this isn't your typical white sand beach, Ras Shitan definitely deserves a spot on the list. If you're looking for an unforgettable and unique travel experience and one of the most serene places to relax, this is it. Situated on the Sinai Peninsula is the idealistic Moon Island, where you will find one of the most scenic, quiet and secluded beaches in Egypt. Moon Island camp rents out several huts along the beach, offers home cooked meals, and excursions.
Photo Credit : Maro Tours / Haaretz.com / Around Guides
---
4. Le Morne : Mauritius
If the exotic location, crystal clear waters, white sands, hidden caves, or towering cliffs don't lure you to this epic beach destination, perhaps the underwater waterfall will. Best seen from above, the underwater waterfall is a spectacular optical illusion created by sand, silt, and varying colors of water. Le Morne is known for several stunning beaches, luxurious attractions and exotic flora and fauna.
Photo Credit : beach-weather.com / just-mauritius.co.za
---
5. Boulders Beach : South Africa
Perhaps this isn't the best place to take a refreshing dip in the ocean, but definitely a beach worth visiting. The landscape here is incredible. Staggering mountains, green and blue waters, massive granite boulders, and shipwrecks add to the appeal. In my opinion, the best part about this picturesque South African beach has to be the colony of urban African Penguins that reside here. You could spend hours watching them waddle around in the sand, race each other to the water, and ride the waves back in.  There's even a little cafe on the corner that cautions patrons not to feed the penguins that walk up and beg at your table.
READ: 5 Reasons You Should Self Drive Safari in Southern Africa Right Now!
Photo Credit : The Wander Theory
Want even more beach inspiration? Check out our first installment of